Are you looking for the latest sample papers for class 12 Accountancy exam preparation? Then download the CBSE Class 12 Accounts Sample Papers from CA Wizard. Here class 12 Accounts sample papers are available in pdf download. We have provided the sample papers, question papers for the 2021 exams with solutions and marking schemes for all of them.
You can also get sample papers for all the other subjects of the Commerce field (Economics, Maths, Business Studies) on our website. CA Wizard is a resource library for the class 12th commerce students and all those who want to become successful Chartered Accountant.
The updated CBSE accounts sample papers class 12 with solution 2021 and best 12th commerce classes will help students prepare for the upcoming board exams 2021. The Central Board of Secondary Education every year publishes the sample paper of accounts class 12 on the official website cbse.nic.in. Students of commerce stream must download the CBSE class 12 accountancy sample papers 2021 in a pdf format from here.
CBSE Class 12 Accountancy Paper Pattern 2021
Before solving the CBSE class 12 accounts sample paper 2021, students must check out the latest exam paper pattern. This will help students to prepare well for the examination.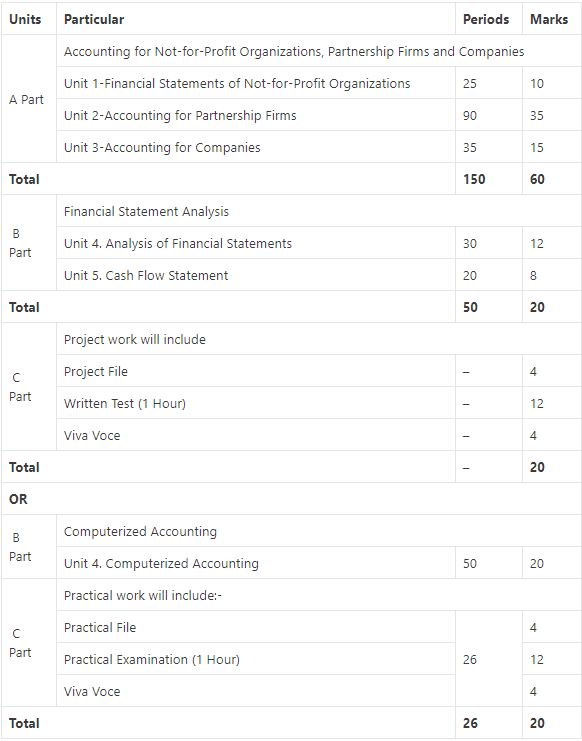 CBSE Class 12 Accounts Sample Paper 2021
Every year, CBSE Board releases sample papers for class 12. These sample papers are designed on the revised and latest syllabus for the 2021 board exams.  Students should practice the CBSE Class 12 Accounts Sample Paper 2021 with solutions. It is designed on the revised CBSE syllabus of Accountancy, from which 30% of topics were deleted. In the other question papers, cross out the out-of syllabus questions.
CBSE Class 12 Accounts Sample Paper Term 2 2021-22
Download Previous Years Sample Paper of Accounts Class 12
Accountancy is a practical subject in which students need lots of practice for the exams. Therefore, from the given table students can download the pdf of CBSE class 12 accounts sample papers with solutions of previous years. From the solution pdf, students will get the detailed marking scheme of accountancy. 
CBSE Class 12 Accountancy Previous Year Question Papers 2020-21
Use the links provided below to download PDFs of the previous year's Accountancy question papers of CBSE class 12. All the sets of question papers of the 2020 Accountancy exams are given here with their answer keys. 
Download Previous Year Question Papers
Download Solutions to Previous Year Question Papers
Class 12 Accountancy Paper 1
Accountancy Paper 1, 2, 3 Solutions
Class 12 Accountancy Paper 2
Class 12 Accountancy Paper 3
Class 12 Accountancy Paper 4
Accountancy Paper 4, 5, 6 Solutions
Class 12 Accountancy Paper 5
Class 12 Accountancy Paper 6
Class 12 Accountancy Paper 7
Accountancy Paper 7, 8, 9 Solutions
Class 12 Accountancy Paper 8
Class 12 Accountancy Paper 9
Class 12 Accountancy Paper 10
Accountancy Paper 10, 11, 12 Solutions
Class 12 Accountancy Paper 11
Class 12 Accountancy Paper 12
Class 12 Accountancy Paper 13
Accountancy Paper 13, 14, 15 Solutions
Class 12 Accountancy Paper 14
Class 12 Accountancy Paper 15
General Instructions for Class 12 Accounts Board Exam 2021
CBSE Board papers have general instructions written on the question paper. These instructions are very important. Here is how the general instructions of the Accountancy exams look like:
(i) This question paper comprises two Parts – A and B. There are 32 questions in the question paper. All questions are compulsory.
(ii) Part A is compulsory for all candidates.
(iii) Part B has two options, i.e., (1) Analysis of Financial Statements and (2) Computerized Accounting. You have to attempt only one of the given options.
(iv) Heading of the option opted must be written on the Answer-Book before attempting the questions of that particular OPTION.
(v) Question nos. 1 to 13 and 23 to 29 are very short answer type questions carrying 1 mark each.
(vi) Question nos. 14 and 30 are short answer types–I question carrying 3 marks each.
(vii) Question nos. 15 to 18 and 31 are short answer type–II questions carrying 4 marks each.
(viii) Question nos. 19, 20, and 32 are long answer types–I questions carrying 6 marks each.
(ix) Question nos. 21 and 22 are long answer type–II questions carrying 8 marks each.
(x) Answers should be brief and to the point. The answer to each part should be written at one place.
(xi) There is no overall choice. However, an internal choice has been provided in 2 questions of three marks, 2 questions of four marks, 1 question of six marks and 2 questions of eight marks. You have to attempt only one of the choices in such questions.
(xii) However, separate instructions are given with each part and question, wherever necessary.
Why Practice with CBSE Class 12 Accountancy Sample Papers?
The Accountancy subject is very important for commerce students. Not only in terms of the vast syllabus and difficult exam paper but also for creating a knowledge base for higher studies. Say you want to pursue the CA Course after 12th, then Accountancy is a very important subject. The knowledge you gain in 11-12th will help you in the CA Course studies. So you need to pay attention to every small and big concept of the Accountancy syllabus to get a good understanding and high marks. 
Solving the sample papers will help you test your preparation level. After evaluating your answers with the solutions CBSE answer key, you will know where you need more practice. Don't just leave it at one sample paper; practice at least a few question papers. We have many sample papers and previous year's question papers for you below. The CBSE sample paper 2021 class 12 accountancy with solutions are designed similar to the main exam question papers. Solving them will give you clarity on the question paper design of the final exam.  
Preparation Tips for Class 12 Accountancy Exam 2021
While Accountancy is a very scoring subject, the syllabus is very vast for you to cover on time. Even with the 30% topics reduced by CBSE, you still need time to prepare well. To help you in the Accountancy exam preparation, here we have some very essential tips for you:
Before you begin your exam preparation, check the latest syllabus, and note the marks weightage in your books/notes. 
Now make a timeline for all the chapters and topics. Mention clearly how much and what you will learn in a day. Don't try to cram up everything; you will end up forgetting it during your exams. 
Regular revisions are very important, especially in Accountancy. You can make short notes for your ease. Even if you can only revise in small chunks, do it. Always revise what you have learned. 
Solve CBSE Class 12 Accountancy Sample papers and previous year question papers. While solving them, use answer sheets that are similar to the CBSE answer copies. It will make you comfortable in writing on such sheets, and you will understand how to use the space appropriately.
If you have a poor concentration level, then improve it. The Accountancy paper needs focus. Imagine getting distracted when you are in the middle of solving a question or doing an important calculation. You will waste time if you lose concentration.
Implement these simple tips, and you will score high marks and possibly a 100/100 in your Accountancy exam. 
CBSE Class 12 Accountancy Sample Paper FAQs 
Q1. What will be the difficulty level of the CBSE Class 12 Accountancy Paper?
Ans. The Accountancy paper is most likely to be at moderate difficulty.
Q2. What is the importance of Class 12 Accountancy Sample papers?
Ans. Go through the importance of Class 12 Accountancy Sample papers listed below:
Firstly, sample papers will help in knowing different types of questions that can appear in the exam.
Candidates can improve their speed and know how to manage time during the exam.
It will let candidates where they go wrong and how to improve in those areas.
Q3. Which is the best sample paper for class 12 Accountancy?
Ans. CBSE Class 12 Accountancy Sample Papers are the best for you.
Q4. How can I better prepare for the Class 12 Accountancy syllabus?
Ans. Begin your preparation by studying from the right class 12 Accountancy books which cover all the topics according to the latest exam pattern and syllabus 2020. One of the best methods to score more marks in the exam is to practice as many previous year question papers as possible and take up mock tests.
Q5. Can I use a calculator in the CBSE Class 12 Accountancy Exam?
Ans. No. Calculators are not allowed in the CBSE class 12 exams.