In order to help the students score more than 90% marks in class and complete the 12th syllabus in 1 month, we have collected the latest 2021 CBSE Class 12 Business Studies, Syllabus,  Sample Paper 2020 with other question papers, NCERT solutions, NCERT Books, projects and case studies, practice manuals, Important questions for you. 
The guide for class 12th is a compiler of all the updated and required study material, streamlining your study time and getting the best result.
This blog will let you know about the complete chapter-wise syllabus of Part Principles and Functions of Management, Part B Business Finance, and Marketing, and also the important ideas on project work. We have also shared the pdf files of business studies book 1 and business studies book 2. You can also get the notes, sample papers, and previous year question papers with solutions to practice the right way of answering the questions. 
We suggest you to join the best 12th commerce classes for better preparation of the Business Studies exam. All the Best for your exams!
1. Business Studies
Subject Code No. 054
CBSE (Central Board of Secondary Education) is the government-organized body that takes care of senior secondary education in India. Students after 10th choose subjects from arts, commerce, and science streams which is the building foundation of their professional courses. To manage the crisis due to covid19, CBSE has reduced the syllabus by 30% and scheduled the exam in May 2021 instead of February or March. The new exam date sheet has been released and can be viewed from here.
Business Studies is one of the core subjects of the Commerce field. This subject is a scoring subject in class 12 exams. If you score more than 90% marks in this subject, you have the opportunity to join further professional courses like  MBA, CA, BCA, BBA, Entrepreneurship, and many more. Students with good knowledge about business and commerce prefer to prepare for professional courses like CAT. 
CA Wizard is an online education library for students in class 11th, 12th, CA foundation, CA intermediate, CA final, CIS, CAM, and more. We have all the necessary resources for Commerce Stream students. Visit our website if you want the latest syllabus of commerce subjects, ebooks, and papers for all the main commerce subjects (Accountancy, Maths, Economics). CA Wizard also provides you with all the latest information on the CA course- the best career option after class 12. 
1.1 Objective of the Subject
Business studies will teach you all about how to do the planning of a business, organizing of business, Staffing in a business, Directing, controlling business, Marketing involved in the business, and consumer protection.
2.  CBSE Class 12 Business Studies Syllabus 2021
Business studies is a theoretical subject that requires an explanation of the answers in a point-to-point manner. No extra philosophy will be taken into consideration while writing in the answer sheet. The CBSE Syllabus for Class 12th Business Studies is divided into 3 parts.
2.1Part A: Principles and Functions of Management; The student should consider  Business studies Part 1–Principle and function of Management book for Business Studies part A syllabus. This part of the syllabus has 8 units covered in all the chapters of Book 1. 
2.1.a Deleted Topics
Students using old books or not updated with the new 30% reduced syllabus should avoid reading the following topics for the 2021 syllabus.
 Demonetization – concept 

Impact of Government policy changes on business with special reference to liberalization, privatization, and globalization in India

Single-use and standing plans. Objectives, Strategy, Policy, Procedure, method Rule, budget and Programme 

Formal and informal organization- concept 

Staffing as a part of the Human Resource Management concept 

barriers to effective communication, how to overcome the barriers

Relationship between planning and controlling
2.2 Part B: Business Finance and Marketing: The student should consider Business studies Part 2–Business Finance and Marketing book for BST part B syllabus. This covers 4 chapters of book 2 and is divided into 4 units. 
2.2.a Deleted Chapters 
Physical Distribution – components and channels of distribution

Consumer Protection: the importance 

Consumer awareness – Role of consumer organizations and Non-Governmental Organizations (NGOs)
Download Latest CBSE Class 12 Business Studies Syllabus PDF
Download 2021 CBSE Class 12 Business Studies Deleted Syllabus PDF
2.3 Part C: Project work: 
Students are supposed to select one unit out of four and are required to make only ONE project from the selected unit. (Consist of one project of 20 marks)  
Project One: Elements of Business Environment
Project Two: Principles of Management
Project Three: Stock Exchange
Project Four: Marketing 
There are no case studies that need to be assessed by class 12th students. Only 11th class students have to submit the case study on product and brand. The 2021 Syllabus for 12th commerce can be viewed from the link below.
Download the Project  Syllabus PDF file from here.
3. Detailed Marking Scheme for Business Studies Syllabus 2021
The CBSE class 12 marking scheme will help the students to set their timetable on the basis of which chapters have high weightage and which chapters can be left for the last minute's quick sneak peek. 
In Business Studies through the preparation of chapter staffing, directing, controlling has the highest weightage. Whereas part B of the syllabus is lengthy and will need extra effort to score 25 out of 30 marks. Part A is important and proper preparation can help you score better marks. 
3.1 CBSE Class 12th Business Studies marking scheme
.
3.2 Detailed Marking Scheme for Business Studies Project Syllabus 2021
Students are supposed to select one unit out of four and are required to make only ONE project from the selected unit. (Consist of one project of 20 marks). Our practical guide can help you to prepare projects in the best possible way.
Allocation of Marks = 20 Marks 
The marks will be allocated under the following heads: 
1. Initiative, cooperativeness, and participation 2
2. Creativity in presentation 2
3. Content, observation, and research work 4
4. Analysis of situations 4
5. Viva 8
Total 20
CBSE Class 12 Business Studies Syllabus
4. Cbse 2021 Class 12 Business Studies Book
Students can now download the CBSE class 12 commerce books and can study anywhere in both offline and online mode. The books are available in  3 different languages Hindi, English, and Urdu.  Students can download the book chapter-wise and can also download the full book with that for the practical subjects in the course.
Students can download the CBSE Class 12 Business Studies Book from the below table and can study the whole course in a pdf format also. 
4.1 NCERT Class 12 Business Studies Book Chapterwise PDF Download 
Principles and Functions of Management Book 1
Business Finance and Marketing Book 2
4.2 Other Prescribed Supplementary Materials issued By NCERT
5. Download Solved CBSE Class 12 Business Studies Question Bank: 
Sample Papers, Previous Year Question Papers, model test papers with solutions.
5.1 Download Sample Papers for Class 12th Bst. Paper
CBSE has slightly changed the pattern for the class 12th papers. More MCQ-type questions are covered in the new sample papers for the commerce stream. You can see the new pattern in the latest sample paper PDF file of Business Studies given below.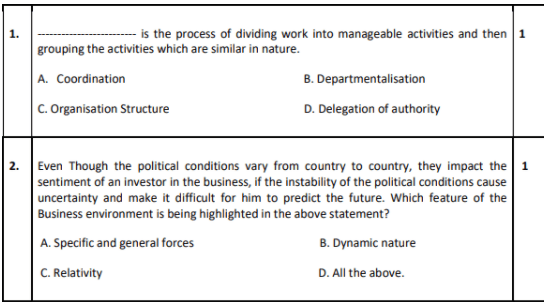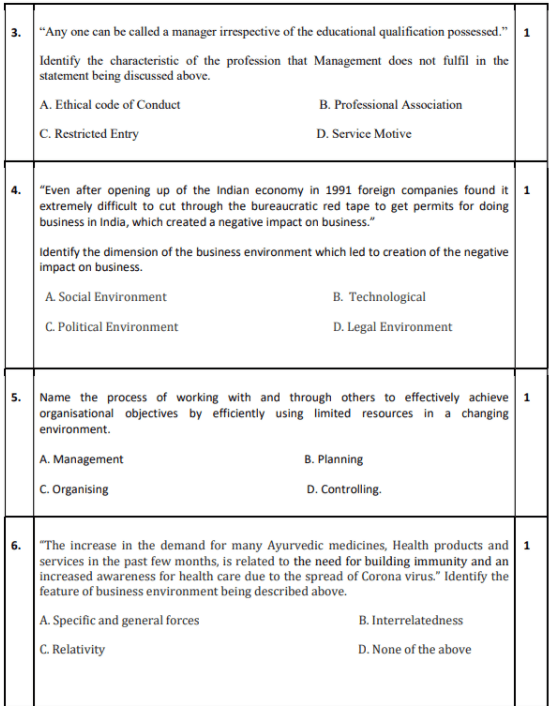 5.2 Download CBSE Class 12 Previous Year Question Papers of Business Studies
12th class CBSE  Students looking for previous year question papers with solutions for all subjects should look no further.  We have given the PDF download links for all the previous year's CBSE papers of Business Studies. All the sets are here with their answer keys in English and Hindi. Download the files according to your study medium.
5.3 Download CBSE Class 12 Model Test Paper of Business Studies
Model test paper is issued by NCERT and can help students to understand the basic structure of the upcoming paper in 2021. Students should not consider the questions asked in a model test paper as important questions.  
Download the PDF of CBSE Class 12 Model Test Paper of Business Studies.
5.4 CBSE Class 12 Business Studies Question  Paper 2020 General Instructions:
The question paper contains 34 questions. 

Marks are indicated against each question. 

Answers should be brief and to the point. 

Answers to the questions carrying 3 marks may be from 50 to 75 worlds. 

Answers to the questions carrying 4 marks may be about 150 words. 

Answers to the questions carrying 6 marks may be about 200 words. 

Attempt all parts of the questions together.
6. Download CBSE Class 12 Business Studies  Notes Chapterwise:
Students can download notes for chapters of both books from here. These notes can help you cover the syllabus on time and can help you with quick references while making revisions. Revision notes from CA wizard have helped many students to score good marks in the exams. 
7. How to study Business Studies CBSE Board Syllabus of Class 12?
Business studies is a very theoretical subject. Even though you can do the class 12 exam preparation in one month, you should still give more time to your exam preparation. 
Here are some preparation tips for you:
Make a timetable plan according to the marking weightage. Cover the chapters with more weightage first. 

Use only CBSE books for studies. They are more than sufficient for clearing your concepts. After completing the syllabus, refer to other books or previous year question papers if you want to practice application-based questions.

Solve the old and new CBSE sample papers. Check your answers with the sample marking scheme given by CBSE.

Revisions are important to help you retain the things you have learned. Do regular revisions, so you don't feel like you haven't studied anything and need to start over again.
8. How to Use CA Wizard Subject Guides?
The guides or the compilers are an easy and handy help of assembling all the necessary documents required to prepare for the exams. The CA wizard guide for B.st paper will be effective for the students if they wisely follow the pattern of using it. 
First  Divide your CBSE Class 12 business Studies  Syllabus into small sections and then download the syllabus for each section.

Refer to the marking scheme given above to know which topics are more important.

Create a register or file for each chapter and mark them important, very important, not important, and also mark the deleted topics of particular chapters.

Take a printout or download the pdf for each chapter's notes, syllabus, examples.

Set the chapters and a timeline and then start preparing.

After completing the syllabus, download or take the printout of the sample papers, the question appears, and model test papers and practice them with the solution and answer keys.

Simultaneously continue your revisions.
9. Takeaway of the Blog
Now, at this time, students should not leave any stone unturned in their preparation. They should burn the midnight oil to score good marks in the 2021 CBSE Business Studies Exams. Students who fail to obtain the passing marks in 2021 will get another opportunity by appearing for the compartmental exams. 
The easiest way to clear the compartment exam is by solving the previous year's compartment exam papers. Doing so will give the student an idea of important topics and the paper's difficulty level. 
To help them prepare well, we also provided the CBSE compartment exam question papers with the marking scheme for classes 10 and 12. The marking scheme contains the answers to the compartment papers
10. FAQ
1. Is it necessary to practice solved and unsolved questions given at the end of each chapter in NCERT eBooks?
When you solve the practice and unsolved question then you just check yourself that what you have studied in the chapter actually have under that topic or not then you can again check the points where you have to work hard. There are many reasons that you have to solve the question from the books 
The questions asked in the question paper are more similar to the questions that come in the exam.
It will increase the knowledge on that topic
By practicing questions always helps you in making your answers accurate and improves your speed which plays a major role while giving the exam.
2. Which syllabus does NCERT follow?
The syllabus followed is specified by the CBSE, each and every chapter included in the syllabus is well explained. 
3. Does reading the NCERT Textbooks thoroughly guarantee good marks in the final exam?
Yes, it is said that if you want to score good marks in the exams then you have to first go through your NCERT books, but the main thing is you just can't score good marks just by reading from the NCERT books you should have a clear idea what topic is and how clear your concept is these two will make sure that you will score good marks in exams.