Recently, Atul Agarwal achieved the All India First Rank in CA Final MAY 2018. By this great achievement, CA Atul Agarwal became a body of inspiration to many of the other CA Aspirants. But in the recent interview, CA Atul Agarwal gave some confusing statements which created hatred among the CA students for him. Most of the CA Students are opposing the statements said by CA Atul Agarwal.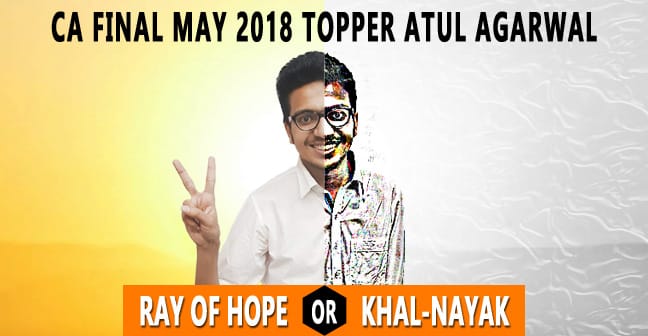 CA Atul Agarwal – A Khal-Nayak?
Now, you must be willing to know that what Atul Agarwal said? What actually he meant to say by such statements? Read the complete article to see the truth behind the entire story.
The statements which CA Atul Agarwal gave are:
CA is much easier than 10th and 12th Board Exam.
He also wrote a letter to ICAI and asked them to drop the ICAI passing percentage to only 1%. In his letter, he also asked to stop the bonus marking in CA examinations.
Apart from all these, he also pointed the finger at the well-settled faculties who are teaching a portion of 90 to 95% of the CA Final Students. CA Atul Agarwal said that the CA students worship these faculties like God without looking at any of their demerits.
As per our opinion, all the three statements are objectionable and will not be accepted under any circumstances because :
The CA Result is extremely low as compared to the 10th and 12th, then how can CA be easy in comparison to 10th and 12th. As said by CA Atul Agarwal that he got the right mentor, and under his guidance he prepared so well that it looked simpler than 10th and 12th to him. But it is not possible for every student to have such a mentor. Still, CA is a typical exam and its not at all easy to pass it.
The letter written by CA Atul Agarwal to ICAI is really objectionable and it is not acceptable. Also, his view regarding the faculties was not at all expected from such a student. We strongly depreciate it.
Till now, you must have declared CA Atul Agarwal as the culprit. So, kindly wait as this is only the first aspect of the story. Go through another side of the story too and then decide.
CA Atul Agarwal – A Ray of Hope?
Many students look forward to CA Atul Agarwal as a ray of hope. As a topper, statements by him play a very significant importance for aspirate CA Students.
Students start giving first priority to ICAI PM and SM.
Students feel a need of personal guidance and they seek personal guidance while looking for coaching institute.
It is possible that the faculties are not that much comfortable with the new additions to the CA Course and to cover that thing they are blaming ICAI in order to gain the sympathy of students.
It is possible that the students who are missing by some marks in each exam can get success with the guidance of Atul Agarwal and his Mentor.
Also, the finger has been raised on the evaluation process of ICAI. If the ICAI evaluation has been not appropriately done then why the students were quiet for so long.
However, this is also a view which the students possess regarding the CA Atul Agarwal's incident, but the number is quite low (only 10%).
Busting the Buzz Investigation
After reading both the aspects of the statements, you only decide that what you need to do. It is a holy saying that all the people on the planet have some good and some bad things about them. Like that, the statement of CA Atul Agarwal was an objectionable one, but there were some positive aspects too, such as:
Many people are seen speaking that Atul Agarwal has just memorized the things without understanding. But it can't be possible as in the CA exam you get to answer the Practical sheets, and each of the questions in the practical sheet carries different questions with different values. So, to answer such questions, the concepts should be evident in the student's mind. Hence, we can say that Atul Agarwal is well versed with the topics too.
Students are following the same path and getting failed in every attempt then what is wrong about changing the track and trying something new. Who knows it may work for you and you may clear the exam.
We know that there are only 10% or less than 10% students who are in the favor of CA Atul Agarwal whereas it is sure that there will be at least 90% students who are in against of his statements. But the matter to focus is that the result of CA also lies around 10%. Our Enemy is our negative thinking! Don't you think so? Even Great Scholars have said that a person should see the DETERIORATION only in his own and virtue in others. It may be possible that there is some shortfall in ourselves, which can only be cured by positive thinking.
Students are seen complaining against the concepts provided by ICAI in their modules, but it is possible that there is just the difference of opinion. And what is bad in following icaiopinions if they are helping us in passing the exam. For example in a Court, a panel of 15 judges hears a case. Out of these 15 judges, seven are in favor whereas eight are against it. So, the result will be declared as per the majority but when it comes to the opinion, all the judges are great scholars, and it is just the difference of opinion.
Recently we communicated with Atul's study center, and we have come to know that this was his first batch of CA finals, and he attained the All India First rank in the first attempt. Also, they has achieved 3 All India first Ranks in the last 5 to 6 years in ca ipcc. This means there is something very unique and beneficial going on at Atul's Coaching Center and what is wrong in getting that benefit if it is leading us to success.
Atul and his teachers have been accused that they are against the students but how can such a good result provider possess or give a bad thought for the students?
It may take a lot of time for us to understand this and later find out why we should have changed the track long ago, so why to delay? And by this, we can keep positive thinking that at least there is a start of evolution reforms because of the Atul's statements.
In this subject we talked to some of the students studying in the Atul's coaching center VSI, then one of the students from there found us to know that :
All children studying in VSI are highly motivated to pass, and they do not fear CA.
The most important thing is that after the first rank, a lot of students would have approached VSI for admission but VSI made a batch of only 40 students for the CA final. And instead of taking the IPCC Rankers in this batch, gave admission to the students who have failed in the CA Final Exam for 5-10 times. The motivation and environment which is given to the students at VSI is so good that students get the self-believe that they can clear the exam. The mentor of Atulbelieves that they will get rankers from these students too.
The next question which comes to mind is why the batch of only 40 students and that too without IPCC rankers. In CA IPCC May 2018, VSI gave 11 All India Ranks, but they didn't provide admission to that students also whereas the rankers are given preference even before admission
However, the future will tell the reality.
That's why my friends, maybe this is just the fight of domination of teachers only, and we grind it down and lose ourselves. We would like to say to you that go with the qualities of Atul, not with his inferiority. Keep the positive thinking to prove yourself and achieve success.