ICAI has released the much-awaited CA Foundation result along with the CA Final result on 13th August 2019.
You can check your ICAI CA Foundation result of the May/June 2019 exam from the given page. Here we have provided the direct link to the ICAI official website and also mentioned the step-wise procedure to check the same.
Read further to details regarding marks sheet/ result card, how to apply for verification of marks, pass percentage and toppers detail.
Important Dates of CA Foundation June 2019 Exam
| | |
| --- | --- |
| Particulars | Dates |
| CA Foundation | 4, 7, 9 & 11 June 2019 |
| CA Foundation Result Date | 13th August 2019 |
| Time Limit for Application of Certified Copies | 30 days from the declaration of result |
| Time Limit for Application of Verification | Received by ICAI within 30 days from the declaration of result |

---
Get Latest Result Updates
Where to Check ICAI CA Foundation Result 2019
You just need to go on the blue highlighted CA Foundation 2019 exam Result Link in which the result is written.
Now click on "Results" and then "Foundation"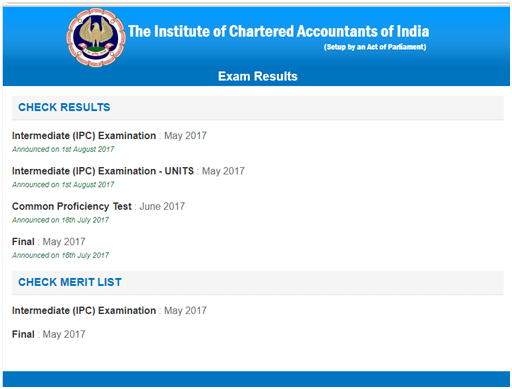 After clicking on the "Foundation", a screen will appear where you need to fill the required particulars

Your Roll No
PIN
Registration No.
and also the captcha code.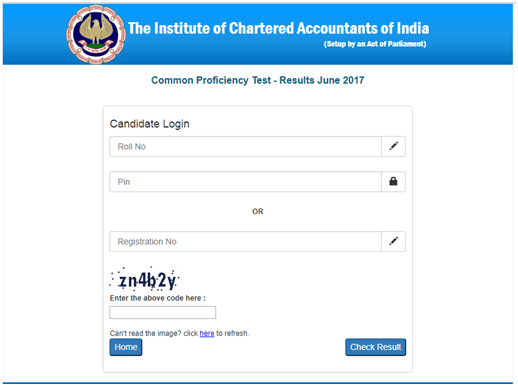 Then proceed to the "Check result" button and your result will appear.
Take a print of Such Marksheet. This will be useful for future reference.
However, there are thousands of students who appear in this exam. Hence on the result date, so many students at the same time try to access this site as a result, the site gets overload pressure and resulting in the Denial of service. The site usually takes the whole day to recover, but the students are so desperate to see their result, that they can't wait for the whole day. In order to overcome such a problem, ICAI will provide the CA Foundation result also through E-mail or SMS. In order to get your result on mobile (through SMS) or E-Mail, you need to pre-register yourself first.
Check Your CA Foundation 2019 Result Through SMS
If you want to get the result through SMS, then you will have to register yourself with the ICAI SMS Service. The registration process is not difficult, anyone can easily register with this scheme.
You just type a message CA FOUNDATION(SPACE)XXXXXX and send it to the 58888. Here the blank 6 digits will be your 6 digit roll no.
For example, if your roll no. is 53249, then you need to place a zero before it while writing it in the above text.
Like- CA FOUNDATION 053249 and send to the 58888.
The SMS service is available for all mobile networks.
Check Your Result 2019 Through Email
If you want to receive your CA Foundation June 2019 Exam result through EMAIL, then you will have to register yourself with its Email Services through your Roll No., PIN or Registration No. with the ICAI official website.
And thereafter you will get your result in your INBOX.
---
CA Foundation Pass Percentage 2019
CA Foundation May – June 2019 Result Pass Percentage is mentioned below in the table
| | | | |
| --- | --- | --- | --- |
| Gender | No. of Candidates Appeared | No. of Candidates Passed | Pass Percentage |
| Male |   17844 |   3296 |   18.47% |
| Female |   13127 |   2457 |   18.72% |
| Total |   30971 |   5753 |   18.58% |
Nov 2018 Pass Percentage
| | | | |
| --- | --- | --- | --- |
| Gender | No. of Candidates Appeared | No. of Candidates Passed | Pass Percentage |
| Male | 27734 | 11935 | 43.03 % |
| Female | 20968 | 9553 | 45.56 % |
| Total | 48702 | 21488 | 44.12 % |
---
CA Foundation Toppers May -June 2019
Toppers of CA Foundation 2019 exam is mentioned below in the table –
| | | | | |
| --- | --- | --- | --- | --- |
| Particulars | All India Rank I | All India Rank II | All India Rank III | All India Rank III |
| Name | Rajat Sachin Rathi | Kalivarapu Sai Srikar | Priyanshi Saboo | Minal Agarwal |
| City | Pune | Srikakulam (Andhra Pradesh) | Bhopal | Surat |
| Marks | 350/400 | 344/400 | 343/400 | 343/400 |
| Percentage | 87.50% | 86% | 85.75% | 85.75% |
Nov 2018 Toppers
| | | | |
| --- | --- | --- | --- |
| Particulars | AIR – 1 | AIR – 2 | AIR – 3 |
| Name | Garvit Jain | Kshitij Mittal | Hardik Gandhi, Soumyaa Giriraj Jaju, Mrithunjjan Ravichandran |
| City | Dewas | Faridabad | Bhilai, Jalgaon, Salem |
| Roll No. | 123373 | 118492 | 117273, 125896, 142697 |
| Marks | 374 | 370 | 368 |
| % | 93.50% | 92.50% | 92% |
The result for CA Foundation mentioned that the student is either qualified to move to the next level or still required to pass the entry test.
---
CA Foundation Result Card/ Marksheet
All those students who appeared for this exam, ICAI issue them Result Card whether they Cleared or not. The Result Cards are generally issued within two weeks of the declaration of the result. However, the result card is also available on the ICAI official website which is considered a valid document to apply for the next level hereinafter called the Intermediate.
Candidates who secured 70% or more will be declared as "Pass with Distinction" in the Result Card.
Marks Required to Clear CA Foundation
Candidates appearing in CA Foundations exams are required to get 40% marks in Individual Subjects and 50% in Aggregate. Two of its paper will be subjective and the other two will be objective.
Total – 400 Marks (Aggregate Require -200 Marks)
S.NO.

Subjects

Marks Required

Principles and Practices
of Accounting

40 Marks

2.

Business Laws

Business Correspondence
and Reporting

40 Marks

3.

Business Mathematics

Logical Reasoning

Statistics

40 Marks

4.

Business Economics

Business and
Commercial Knowledge

40 Marks
Paper III and Paper IV will be objective and negative marking will continue in both of the subjects. For each wrong answer, ICAI will deduct ¼ marks and for each correct answer, you will be given 1 mark.
---
What If a Candidate is Not Satisfied with His/Her Result
In case you are not satisfied with your CA Foundation Exam result then you can go with the verification of marks (in general terms- Rechecking) or Inspection of the certified copies (General Term – Call your answer sheet).
The verification of marks does not mean a revaluation of the answer book. Revaluation of the answer book is not permitted under the Chartered Accountants Regulations, 1988.
This includes:-
Evaluation of whether any question or part of the question after checking has remained unvalued.

Evaluation of any error in any question or total marks on the cover page.

Assess whether the marks given to the question or part of the question are carried exactly the same to the cover page of the answer book.
Apply for Verification / Inspection of Certified Copies
You can apply for the verification/ inspection within a month (the application should reach to the institute within one month) after the declaration of CA Foundation result by mentioning the following details along with the prescribed fees. (The prescribed fees is Rs 200/- and Rs 500/- for verification and inspection respectively).
Student Name

Registration Number

Exam- CA Foundation

Month and Year of the Exam

Roll No.

Paper to be verified

Address for Communication.
As you are CA Foundation Student, so you have to make the request for verification only through physical handwritten application along with the demand draft of prescribed fees (prescribed fees for CPT is 200/-). The draft should be in favor of " The Secretary, The Institute of Chartered Accountants of India" payable at New Delhi.
However, for the inspection of certified copies, you can make the application either online or offline mode.
In the case of a Hindi medium student, the application should be made in Hindi Language only.
The offline application should be sent to the following address through the Speed Post or Registered Post:-
The Joint Secretary (Exams)
The Institute of Chartered Accountants of India
ICAI BHAWAN, INDRAPRASTHA MARG
New Delhi, 110002
Please write over the envelope "APPLICATION FOR VERIFICATION OF ANSWER SHEET". It should also include name, month and year of the exam.
Only one application will be entertained by the Institute for one registration number. So, before applying for verification please carefully fill the application and include all the subjects which you want to get verified.
If you wish to apply for both verification and inspection at the same time, you can do so by two separate applications. But let us bring to your notice that whenever you apply for inspection of your answer book, the Institute suo moto ( on its own) verify your answer books first before releasing the answer sheets.
---

---
CA Foundation Verification Result
The verification result for CA Foundation may take up to 6 to 8 weeks. But in case you do not get the CA Foundation verification result within 15 days from the commencement of the next exam then you can write an email to the Exam dept at cpt_exam@icai.in. In the case of the change in marks, the verification fees will also be refunded. And if you have applied for the next exam during such waiting period and verification results into the clearing of your exam then the whole of your fee shall be refunded or you can apply for the next level with such fees.
The verification result will be hosted on the ICAI website You need to check the website from time to time.
The certified copies will be released to you within 30 days by the ICAI from the date of receipt of your application. Even in case of revision of marks, no fees will be refunded for the inspection of certified copies.
Have any query regarding CA Foundation Result? Please tell us in the comment box.
We wish you best of luck.
Also Read: How to Get a High Score in Ca Foundation