Chartered Accountant is one of the prestigious career options for candidates looking to make a career in the field of accounts. The CA course has three levels- Foundation, Intermediate, and Final. However, there is another part of the CA course that is compulsory, and every candidate has to complete it to become certified CA. We are talking about CA Articleship. It is a three-year compulsory training for which students must clear at least one group of CA intermediate level. During the articleship period, students receive a stipend of 1000-3000, depending on various factors. In this guide, you will learn about CA articleship, its duration, eligibility criteria, registration process, stipend, and more. So, keep scrolling to know A-to-Z about it!
What is CA Articleship?
It is a mandatory three-year practical training program of professional course for aspiring CA candidates. This training program aims to provide hands-on experience in accounting, taxation, finance, and auditing to candidates. Candidates who undergo articleship training are called Articles, and they practice under the supervision of the CA, known as the Principal.
The articleship period is the third stage of the CA course. Candidates who have cleared one group or both of CA intermediate must complete this training to be eligible to appear in CA final exams. By undergoing articleship training, candidates gain practical experience in the day-to-day tasks and operations of CA. The articleship period allows the candidate to become a professional with three years of experience and the opportunity to interact with clients in real.
Eligibility Criteria of CA Articleship
CA aspirants need to fulfill eligibility criteria to register for ICAI articleship training. There are different eligibility criteria for the CPT route and Direct Entry Route. Below are the eligibility requirements for both routes-
CPT route-
Candidate should have passed one or both groups of CA intermediate level.
They have completed 04 weeks of ITT and OT training.
Direct Entry Route-
Commerce graduates must score 55%, and other graduate students must score 60% or more to be eligible for CA articleship.
Must have completed mandatory ITT and OT training.
If the candidate has cleared the Intermediate level exam conducted by the Institute of Company Secretaries of India or Institute of Cost Accountants of India, they are eligible for ICAI articleship. Candidates also need to complete a mandatory 15-day orientation program conducted by ICAI.
Articleship Duration-
The CA articleship duration is three years in India. During three years of practical training, candidates work under a practising CA to gain experience in the fields of accounting, finance, taxation, auditing, and other related fields.
The three-year practical training is compulsory and is divided into two parts. In the first two years of articleship, candidates must work under the same practising CA and gain experience in areas like taxation, auditing, accounting, and related fields. It is to provide them exposure to the real business world and practical experience required.
The third year of articleship allows candidates to practice specialized areas like a tax audit, internal audit, and related fields and work for industrial experience, or they can work under the same practising CA. In the third year of the articleship, they are also eligible to sit in the CA final exam after completing 2.5 years of articleship. This practical training provides them a much-needed experience to enter the real world as a CA.
How to Register for CA Articleship?
To commence a CA articleship, one needs to register for it. You will need to fill out the form for the registration process. These steps will guide you to fill out articleship registration forms-
Visit the official website to download Forms 102 and 103. You can download these forms online for free but you have to make an INR 50 payment while submitting a form to the regional office. One can also take these forms from the regional office by paying a basic fee of INR 50.
Now, fill out form 102 (Deed of Articles). It will be implemented for 03 years and deeds less than 03 years will be rejected. The deed should be on a "Special Adhesive Stamp" or "Non-Judicial Stamp" of the prerequisite amount mentioned on it. It also must be signed by the Principal and the Article, and the original copy will be retained by the Principal and duplicated by the Article.
Now fill out Form 103, Statement of Particular. This form will be submitted in 03 copies- one copy to the ICAI, one copy to the principal, and one by Article. So, it should be duly filled and signed. To fill Form 103, important documents are required and articleship registration fees by demand draft. Documents needed to fill form 103 are-
Attested copy of mark sheet of class 12th for DOB proof
Attested copy of CA intermediate mark sheet of group one or both copy
Attested copy of ITT and OT training completion
Demand Draft for requisite fees
All documents are required to be signed by the principal. Ensure there are three copies of Form 103, one for ICAI, one for the principal, and one for the article. This form should be submitted to the ICAI before 30 days of the commencement of articleship training.
Importance of Articleship in CA Course-
Articleship is an important part of the CA course and plays a vital role in preparing candidates for their careers in CA. Without completing three years of CA articleship, candidates will not be allowed to appear in CA final exams. Here are some points why it is important-
This practical training helps students to develop the practical skills necessary for a career as a CA. It will help them gain decision-making, problem-solving, time management, and communication skills which are essential to succeed as CA.
The training provides them with a real-world business environment and experiences and guidance in practising CA. They get experience in auditing, taxation, accounting, finance, and other related fields in these three years.
Articleship helps build a professional network and relationship while they learn from and work with experienced professionals.
ICAI articleship is a mandatory practical training in the CA course. Without pursuing three years of training, candidates will not be allowed to sit in CA final exams. To become a certified CA, they must undergo three-year practical training.
In the third year of articleship, candidate can choose their area of practice in future. During this year, they are exposed to specialized fields like internal audits, statutory audits, tax audits, and more.
Scope of CA Articleship-
Candidates undergoing articleship have to perform various tasks through the training period. The work done by articles is based upon the organization and industry they are working in, and the training year they are in. Articles are provided various tasks and assignments in the second and third years of their training, based on the performance of the first year.
CA candidates can choose their training area as per their interest from various fields in articleship. Some of the available fields are-
Auditing-
Bank Audit
Tax Audit
Statutory Audit
Insurance Audit
Stock Audit
Limited Reviews
Internal Audit
ERP Audit
Sox Audit
Accounting and Consulting
Taxation-
Direct taxation
Indirect Taxation
Transfer Pricing
International Taxation
Filling Tax Returns
Mergers and Acquisitions
ROC Compliances
What is the Salary/Stipend of CA Articleship?
The stipend for CA articleship is not very high. The ICAI has set the basic pay that a firm has to pay for articles. The basic CA articleship stipend established by the ICAI differs for all three years. The minimum stipend for the first year is between INR 1000-2000, for the second year is between INR 1500-2500-, and third-year articles are paid between INR 2000-3000. The basic stipend ICAI sets varies from city to city and company to company. Check the table below, consisting of information on CA articleship salary based on population-
| | | | |
| --- | --- | --- | --- |
| CA Articleship Stipend | First Year | Second Year | Third Year |
| Cities/Town population more than 20 Lakhs | INR 2000 | INR 2500 | INR 3000 |
| Cities/Town population between 4 lakhs to 20 Lakhs | INR 1500 | INR 2000 | INR 2500 |
| Cities/Town population less than 4 lakhs | INR 1000 | INR 1500 | INR 2000 |
These were the basic pay grades issued by the ICAI. However, there is no higher limit specified for the CAI Articleship stipend by the ICAI. CA articleship salary in the Big 4s ranges between INR 10,000-20,000.
Leaves And Working Hours in CA Articleship
According to the ICAI, 156 days of leave are available during three years of training and a maximum of 180 days of leave. Exceeding the allowed number of leaves can cause trouble for them. The total number of working hours per week is at a minimum of 35 hours and aggregate working hours should exceed 45 hours. Articles can take 03-months study period as leave to prepare for CA final exams.
CA Articleship in Big 4 Firms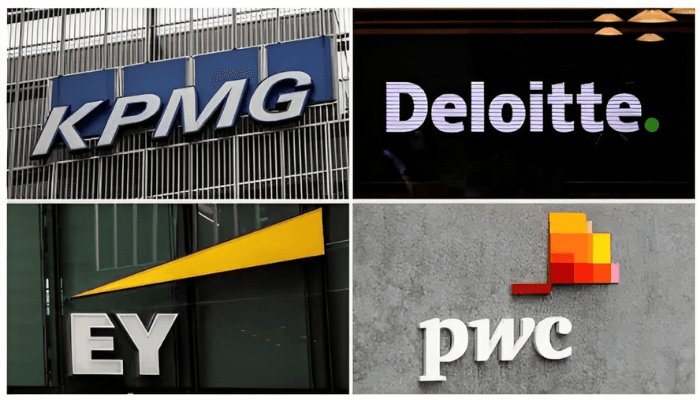 Working in Big 4 firms is the dream of every CA candidate. Big 4s in India offer the best CA practices and working environment along with a CA articleship stipend. Following are the big 4 firms in India that offer several CA articleship vacancy in India-
Deloitte Touche Tohmatsu Limited
Price Waterhouse Coopers (PwC)
Ernst & Young (E&Y)
Klynveld Peat Marwick Goerdeler (KPMG)
Apart from the Big 4 firms, many other companies provide opportunities to CA aspirants. These are-
BDO International
Grant Thornton International
Lodha & Co.
RSM International
SS Kothari Mehta and Co.
Sahni Natrajan and Bahl
How to apply in Big 4 firms?
Candidates can apply for articleship in the Big 4 firms through the following ways-
Through their official website
ICAI Notice Board
ICAI BOS Articleship Portal
Online Job Portals
LinkedIn
References
Transfer/Termination Rules
You know completing three years of articleship is important to appear in CA final exams. Articles, however, can take transfer/termination after completing 01 year of practical training under some circumstances and if they satisfy them. They are-
Medical reasons that require a minimum of three months of discontinuation of articles. They need to provide valid medical certificates for the same.
If parents of articles are transferred to any other city
Unacceptable behaviour involving moral turpitude.
Other circumstances/reasons: –
Reasons permissible under the Chartered Accountants Regulations:
Industrial Training
Principal's Deat
Secondment of articles
If the Principal ceases their practice
The name of the principal is removed from the Register of Member
Marriage (If the article is being relocated to any other city at a distance of more than 50 kilometres)
III. Delayed or No payment of CA Articleship stipend
If the principal is shifted to another city at a distance of more than 50 kilometres.
In any case, articles must get permission from the ICAI before they get a principal's signature on Form 109 for their own interest.
Forms related to Articleship
Here is a list of forms that CA aspirants have to fill out during the articleship. Take a look-
| | |
| --- | --- |
| For Registration | 1. Form 102 Deed of Articles2. Form 103 Statement of Particulars3. Form 112 Permission for studying another course with CA Articleship |
| Deed for excess leaves | Form 107 |
| For Transfer/Termination | Form 109 |
| For Completion | Form 108 |
Conclusion
In this article, we have covered everything you need to know about CA articleship before registering for it. Articleship assures you to gain practical knowledge, which will help you to become a better professional while ensuring you practically apply all theoretical knowledge and concepts you studied for better understanding. It helps you to prepare for real-world business challenges every CA has to face during their career.
Frequently Asked Questions-
Q1. Which field is the best for the CA Articleship?
Ans: During the CA articleship, focus on the taxation area. No business in the world doesn't do taxes and needs to save a few clutches of tax.
Q2. Which city is best for the CA articleship training?
Ans: Mumbai, Pune, Hyderabad, Ahmedabad, Chennai, NCR, Bangalore, and Indore.
Q3. What is the highest-paid CA articleship stipend?
Ans: The highest CA articleship salary is INR 10 Lakhs per annum, which is INR 83,300 per month.
Q4. Can I take the CA Final exam during my articleship?
Ans: Yes, you can attempt for CA final exam after completing 2.5 years of articleship. It means that in the last 06 months of the training, one can appear for CA final exams.
Q5. Do I need to do the articleship for 03 years in one place only?
Ans: Transfer of CA articleship is possible under a few circumstances only; else, one needs to complete practical training in one place only. However, in the third year of the articleship, the candidate can choose industrial training for specialization in this field.
Q6. How do I write a CA Articleship Resume or resume for a CA Articleship?
Ans: Be concise and clear and focus on experience, qualifications, and skills. Proofread to ensure it has no grammar errors or typos. Use professional format and use bullet points for readability.