ICAI has declared the CA Intermediate result and CA IPCC result of the Nov 2022 exam on (3rd February 2020), along with the CA Intermediate topper's list. You can check CA Intermediate and CA IPCC toppers' marks, interview Nov 2019 and all other details through this article.
Download the CA Inter Question Papers with Answers.
Check the CA Inter exam Dates 2023.
---

---
CA Intermediate May 2023 Toppers
ICAI declared CA Intermediate May 2023 toppers' names. Students can check the CA Intermediate May 2023 topper's name in the below table.
| | | | |
| --- | --- | --- | --- |
| Particulars | AIR I | AIR II | AIR III |
| Name | Y Gokul Sai Sreekar | Noor Singla | Kavya Sandeep Kothari |
| City | Hyderabad | Patiala | Mumbai |
| Marks | 688/800 | 682/800 | 678/800 |
| Percentage | 86% | 85.25% | 84.75% |
CA Intermediate Nov 2022 Toppers
In Nov 2023 Diksha Goyal has secured the All India 1st rank. All India 2nd Rank has secured by Tulika Jalan. All India 3rd Rank has secured by the Saksham Jain. Check more details about the CA Inter toppers:-
| | | | |
| --- | --- | --- | --- |
| Particulars | AIR-1 | AIR-2 | AIR-3 |
| Name | Diksha Goyal | Tulika Jalan | Saksham Jain |
| Percentage | 86.25% | 84.625% | 84% |
| Marks | 693/800 | 677/800 | 672/800 |
CA Intermediate May 2022 Toppers
In May 2023 Rajan Kabra Jain secured the All India 1st rank. All India 2nd Rank has been secured by Nishtha Bothra. All India 3rd Rank has been secured by Kunal Kamal Hardwani. Check more details about the CA Inter toppers:-
| | | | |
| --- | --- | --- | --- |
| Particulars | AIR-1 | AIR-2 | AIR-3 |
| Name | Rajan Kabra | Nishtha Bothra | Kunal Kamal Hardwani |
| City | Aurangabad | Guwahati | Kamptee – Nagpur |
| Percentage | 83.25% | 82.25% | 80.38% |
| Marks | 666/800 | 658/800 | 643/800 |
CA Intermediate Nov 2019 Toppers
In Nov 2019 Attempt Akshay Jain has secured the All India 1st rank. All India 2nd Rank has secured by Harsh Chaudhary. All India 3rd Rank has secured by the Ritik Khaitan. Check more details about the CA Inter toppers:-
| | | | |
| --- | --- | --- | --- |
| Particulars | AIR-1 | AIR-2 | AIR-3 |
| Name | Akshay Jain | Harsh Chaudhary | Ritik Khaitan |
| City | Ahmedabad | New Delhi | Konnagar |
| Roll No. | 602540 | 620866 | 651211 |
| Marks | 696/800 | 690/800 | 678/800 |
CA IPCC Toppers Nov 2019
In Nov 2019 Attempt Ardhra Ramesh has secured the All India 1st rank. All India 2nd Rank has secured by Gokul Krishna V B. All India 3rd Rank has secured by the Aakash Kachhal. Check more details about the CA IPCC toppers:-
| | | | |
| --- | --- | --- | --- |
| Particulars | AIR-1 | AIR-2 | AIR-3 |
| Name | Ardhra Ramesh | Gokul Krishna V B | Aakash Kachhal |
| City | Banglore | Muvattupuzha | New Delhi |
| Roll No. | 507564 | 566324 | 525541 |
| Marks | 472/700 | 434/700 | 431/700 |
CA Intermediate May 2019 Toppers
In May 2019 Attempt Akshat Goyal has secured the All India 1st rank. All India 2nd Rank has secured by Meet Anil Shah. All India 3rd Rank has secured by the Anjali Goyal. Check more details about the CA Inter toppers:-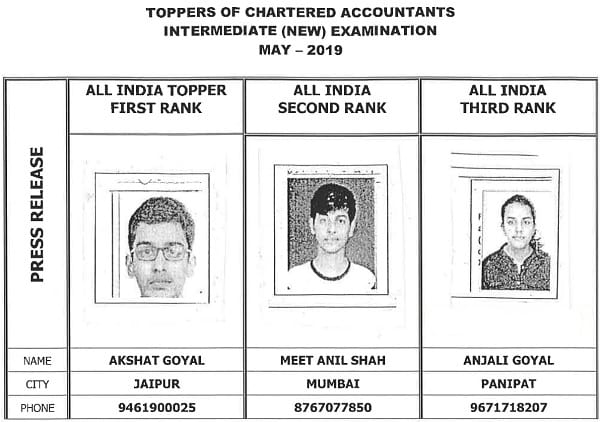 | | | | |
| --- | --- | --- | --- |
| Particulars | All India First Rank | All India Second Rank | All India Third Rank |
| Name | Akshat Goyal | Meet Anil Shah | Anjali Goyal |
| City | Jaipur | Mumbai | Panipat |
| Phone | 9461900025 | 8767077850 | 9671718207 |
CA IPCC Toppers May 2019
Abhinav Prakash Mishra has achieved AIR I in CA IPCC May 2019 examination. Mumbai boy Shripal Prakash Doshi has secured the AIR 2 and two girls achieved the same rank in AIR 3 Jyoti Agrawal, Darshan S., G. Raghavendra Prasath. Check out the following table of CA IPCC toppers:-
| | | |
| --- | --- | --- |
| Particulars | AIR 1 | AIR 2 |
| Name | Abhinav Prakash Mishra | Shripal Prakash Doshi |
| City | Kolkata | Mumbai |
| Phone | 7044360087 | 9029643588 |
| | | |
| --- | --- | --- |
| Particulars | AIR 3 | AIR 3 |
| Name | Darshan S. | G. Raghavendra Prasath |
| City | Chennai | New Delhi |
| Phone | 8124375565 | 9971997676 |
Watch Interview of CA Intermediate Topper Akshat Goyal, AIR-1
CA Intermediate Nov 2018 Toppers
In Nov 2018 Attempt SHUBHAM MALHOTRA has secured the All India 1st rank with 82.125%. All India 2nd Rank has secured by PRANSHU BAGRODIA and PUSHAP GOYAL. All 3rd Rank has secured by the DEVESH LAKHOTIAL. Check more details about the toppers –
| | | | | |
| --- | --- | --- | --- | --- |
| Rank | AIR-1 | AIR-2 | AIR-2 | AIR-3 |
| Name | SHUBHAM MALHOTRA | PRANSHU BAGRODIA | PUSHAP GOYAL | DEVESH LAKHOTIAL |
| State | DELHI / NEW DELHI | KOLKATA | SIRSA | Howrah |
| Marks | 657/800 | 649/800 | 649/800 | 647 / 800 |
| Percentage | 82.125% | 81.125% | 81.125% | 80.88 % |
CA IPCC Toppers Nov 2018
Arjun Minocha has achieved AIR I in CA IPCC Nov 2018 examination with 74.14%. Divya Gupta who is from Fatehgarh Sahib has achieved the AIR II position with 71.43%. Pramanshu Sharma who is from SIRSA has achieved the AIR III position with 70%. Check out the following table of CA IPCC toppers:-
| | | | |
| --- | --- | --- | --- |
| Particulars | All India First Rank | All India Second rank | All India Third Rank |
| Name | Arjun Minocha | Divya Gupta | Pramanshu Sharma |
| State | Delhi | Punjab | Delhi |
| Roll No. | 637710 | 622187 | 645057 |
| Marks | 519 | 500 | 490 |
| Percentage% | 74.14% | 71.43% | 70% |
CA Intermediate May 2018 Toppers
You can check May 2018 topper's details through the below-given table-
| | | | |
| --- | --- | --- | --- |
| Particulars | AIR – 1 | AIR – 2 | AIR – 3 |
| Name | Sakshi Airan | Radhika Chauthmal Beriwala | Akshit Agarwal |
| Marks | 669/800 | 659/800 | 646/800 |
| Roll No. | 467215 | 438460 | 426168 |
| Percentage | 83.63 | 82.38 | 80.75 |
| City | Indore | Surat | Jaipur |
CA IPCC Toppers May 2018
Deepa Jain has achieved AIR I in CA IPCC May 2018 examination with 81.43%. Lakshmanan A who is from Coimbatore has achieved the AIR II position with 71.71%. Parth Gupta who is from Delhi has achieved the AIR III position with 68.29%. The below-given table is about CA IPCC toppers:-
| | | | |
| --- | --- | --- | --- |
| Particulars | All India First Rank | All India Second rank | All India Third Rank |
| Name | Deepa Jain | Lakshmanan A | Parth Gupta |
| City | Delhi | Coimbatore | Delhi |
| Roll No. | 351156 | 334649 | 339906 |
| Marks | 570 | 502 | 478 |
| Percentage | 81.43% | 71.71% | 68.29% |