The average annual salary of a CMA in India is 10 Lakh INR. Hence, a CMA Earns around Rs 83,000 per month in India. Furthermore, the Highest CMA Package given by the top companies is Rs 22 Lakhs per annum.
However, the Salary of a CMA increases as per their Knowledge, skills and experience. The average package of CMA in India depends upon many factors such as job profile, Location, expertise, and industry in which they work. However, the students who get the best CMA results in their course get a higher salary than the average salary.
In this article, we will mention the Starting to Highest salary of CMA in India in 2023 based on different factors.
CMA Monthly Salary in India 2023
According to the ICMAI, the average salary of a fresher CMA in India is Rs 10 Lakh. However, in the year 2023, we have seen the salary raise of CMA by 30%.
Further, check the table below to know the highest, lowest and average salaries of CMA in India.
| Particulars | CMA Salary per Annum | CMA Salary per Month |
| --- | --- | --- |
| Starting Salary | Rs. 6.5 Lacs | Rs. 54,000 per month |
| Lowest Salary | Rs. 2 Lacs | Rs. 16,000 per month |
| Highest Salary of Fresher | Rs. 22 Lacs | Rs. 183,000 per month |
| CMA Average Salary in India | Rs. 10 Lacs | Rs. 83,000 per month |
| Highest CMA Salary | Rs. 55 Lacs | Rs. 458,000 per month |
Moreover, your attempt to complete the CMA exams and your secure rank will also impact your salary.
Also Check: CMA Foundation Course 2023
CMA Salary in India Based on Different Factors
Cost management accountants' pay is based on a variety of criteria, including their position, location, industry, level of experience, and company. You will learn about a CMA's earnings based on many aspects in the section that follows.
CMA Salary in Various Job Profiles
The income of CMA varies according to their job profiles. In the below table, check the salary of CMA on various job profiles.
| | |
| --- | --- |
| Job Role | Average CMA Salary |
| Senior Financial Analyst | ₹7.73 Lacs |
| Financial Analyst | ₹5.45 Lacs |
| Senior Finance manager | ₹20.48 Lacs |
| Finance manager | ₹11.22 Lacs |
| Chief Financial Officer | ₹36.33 Lacs |
| Accountant | ₹3.08 Lacs |
| Cost Management Accountant | ₹05 Lacs |
Top Paying Industries for Cost Management Accountants in India
Every industry offers different packages to their employee. Now, your salary depends upon which industry are you working in. Here is the list of top industries with the compensation they offer.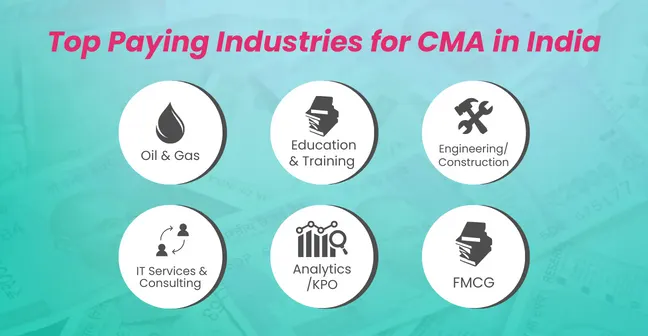 | | |
| --- | --- |
| Industry | CMA Salary |
| Oil & Gas | ₹ 19 Lakhs |
| IT services & consulting | ₹ 10.1 Lakhs |
| Engineering/Construction | ₹ 7.8-8.5 Lakhs |
| Education & Training | ₹ 6.3-8.1 lakhs |
| Analytics/KPO | ₹6.6 Lakhs |
| FMCG companies | ₹ 5.7-7.3 Lakhs |
| Clinical research | ₹ 3.9 Lakhs |
| Financial Services | ₹3.5 Lakhs |
Average Salary Offered to CMA in Different Indian Cities
As said above, job location plays a significant role in the salary of a CMA in India. The average package in India depends upon the cost of living in that country. Here, check the table below to know the salary of CMA in different cities of India.
| | |
| --- | --- |
| Indian Cities | Salary Per Annum |
| CMA Salary in Mumbai | ₹2.5-14 Lacs |
| CMA Salary in Kolkata | ₹6-10 Lacs |
| CMA Salary in Bangalore | ₹6-9 Lacs |
| CMA Salary in Kerala | ₹6.5Lacs |
| CMA Salary in Jaipur | ₹3-6 Lacs |
| CMA Salary in Delhi | ₹6.5 Lacs |
Average Salary Package of CMA in Other Countries
A CMA's workplace has a significant impact on their salary. The Middle East and the USA are where CMA is most common, even though over 100 nations now recognise it as a profession. The United States is the best place to work as a CMA because the average pay for employment after completing the course is very high.
Let's now examine the best-paying nations for cost management accountants:
| Country | CMA Average Salary |
| --- | --- |
| USA | USD $109,119 |
| Dubai | USD $111,000 |
| Canada | USD $100,000 |
| United Kingdom (UK) | USD $69,426 |
| European countries | USD $81,403 |
| Asian countries | USD $40,354 |
| The Middle East | USD $40,722 |
Further, if you work in a market with a huge demand for CMA's, you will make more money. Before deciding which country you want to work in, check the demand for CMA in that country, then only start working.
Annual Packages of Cost Management Accountants in Government Jobs
Government positions are also open to cost and management accountants. The government positions available here pay CMA salaries.
| Government Companies | Job Profile | CMA salary |
| --- | --- | --- |
| NAFED | Manager of Accounts | ₹6.5 Lakhs |
| Regional Centre for Biotech | Senior Accounts Assistant | ₹8.5 Lakhs |
| IWAI | CFO | ₹12 Lakhs |
Role of A CMA in India
As a CMA, he monitors the business's finances, including revenue and outgoing costs. He may work for public, private, or governmental organisations. Strategic planning, decision-making, budgeting, keeping track of finances, and data preparation are daily responsibilities of CMA.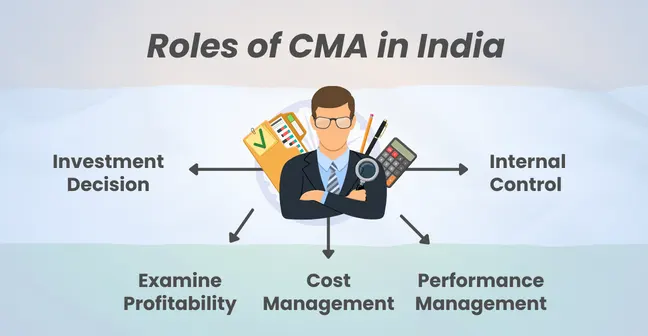 The different duties of a CMA include:
Cost management – They are in charge of managing and controlling the budget as anticipated. They support firms with their expenses, keep them under control, and lessen the chance of going over budget.
Performance management – Examining the financial industry and a company's performance in the market and making improvements. Their responsibility is to distribute tasks under the organisational structure.
Internal Control – They are in charge of assuring fiscal accountability and integrity and preventing fraud. The CMA is responsible for overseeing compliance with rules and regulations and preventing staff members from stealing or engaging in fraud.
Examine Profitability – A CMA must carry out assessments by choosing particular ratios. They arrive at profitability by dividing equivalent values or profits by assets, expenses, and revenues. Understanding profit margin, equity return, asset return, and capital return is essential.
Investment Decision – They also choose how much money to spend on various business and investment prospects. Their task is to hunt for investment proposals that will be advantageous to the business over the long run while assessing the proposal's possible risks and level of uncertainty.
Also, check about CMA Intermediate Course
Top CMA Companies in India
Many companies hire CMA in India. The big 4 Companies or the top 4 leading firms for CMA are:
Deloitte
EY India
PwC
KPMG
Some other tier-A companies that hire CMA Professionals are:
Amazon
HPE
Accenture
Larsen & Toubro
Wipro
Cyqurex
CA vs CMA
CA and CMA are fascinating courses with their place and value in the corporate world. However, both courses are considered to be the toughest. If you choose between CA and CMA, you must be interested in numbers.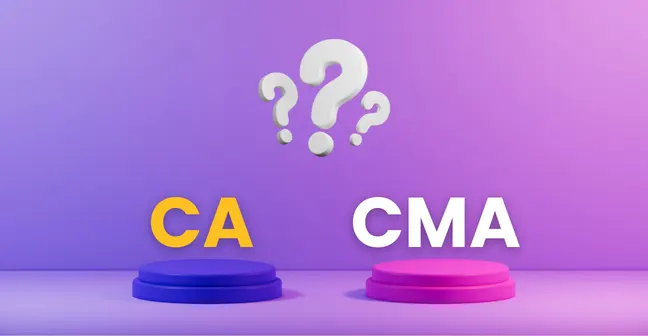 Let's see the fundamental difference between CA and CMA in the table:
Basis
CA
CMA
Course Structure
3 Levels
CA Foundation
CA Intermediate
CA Final
3 Levels
CMA Foundation
CMA Inter
CMA Final
Duration
The total duration of the course is 5 Years
The total duration of the course is 3 years
Course Fees
The total course fee is 2-3 lakhs
The total course fee is around 50-60 thousand.
Market Demand
The market demand for CA is very high and still increasing.
The market demand for CMA is limited but can have high scope in the future.
Average Salary
7-8 Lakhs (Fresher)
3-4 Lakhs (Fresher)
Know: Complete CMA course details
Frequently Asked Questions
Q1. What is the Salary of Experience CMA in India?
Ans: The average salary of an experienced CMA is 4 to 8 years 21.8 Lakhs.
Q2. Is CMA in demand in India?
Ans: In various sectors and government agencies both in India and overseas, there is a constant need for cost accountants who are qualified, skilled, and experienced.
Q3. Can CMA earn in Crores?
Ans: Yes, a CMA can earn crores. However, you can only earn in Crores when you are a professional and working in the USA.
Q4. Who earns more CA or CMA?
Ans: The average salary of a CA in India is 7-8 Lakhs for freshers, but the average salary of a CMA in India is 5-6 lakhs for freshers.
Q5. Can CMA do a Tax Audit in India?
Ans: No, a CMA is not a person who is authorised to conduct tax audits in accordance with section 288 of the IT Act of 1961.
Q6. What are the skills required by CMA?
Ans: The Skills required for CMA in India are:
Knowledge of basic accounting and Fundamentals.
Brilliant Knowledge of Financial Concepts.
Practical and Theoretical understanding of Cost accounting.
Soft Skills, Like communication, Leadership etc.