If you are looking to download the complete and new PSEB Syllabus for the 12th class, then you are in the right place. In this article, we are sharing the Punjab School Education Board Syllabus for 12th Class download link, PSEB Marking Scheme download link, and the PSEB Sample Question Papers. The Punjab School Education Board will reduce the PSEB syllabus by 30% for this year. However, the list of reduced topics has not been released officially. We will update the PSEB reduced syllabus for class 12th here when it's officially updated.
Class 12th is very crucial for your career, so you also need to decide the course which you want to take and from where you will complete your higher studies. To help you make the right choice, we will also be discussing the most recommended course, i.e., Chartered Accountancy.
Also, Know How to Become CA in India
Download 12th Class PSEB Syllabus and Marking Scheme
PSEB Class 12th Subjects
Compulsory Subjects: There will be four compulsory subjects in the PSEB Syllabus 12th Class- English (General), Punjabi, Environmental Education, and Computer Science.
Subject
Theory
Practical
Project Work/Internal Assessment
Total Marks
General English
80
20
100
General Punjabi or
Punjab History and Culture
80
80
20
20
100
100
Environmental Education
45
05
50
Computer Science
50
45
05
100
Elective Subjects: Three subjects from anyone groups:
Group I: Humanities
Group II: Science
Group III: Commerce
Group IV: Agriculture
Additional Subjects: You can choose an additional subject from the elective group you have selected.
You can download the PSEB Syllabus of 12th Class Arts/Humanities, Science, Commerce, and Agriculture by following the below steps or click on this link – Download XII PSEB Syllabus and Marking Scheme 2020-21. The list of subjects available under each of the elective groups is also given in the PDF file.
Steps to download the PSEB Class 12th syllabus from PSEB website:
To download the PSEB Syllabus of 12th Class, open this website:

www.pseb.ac.in.

Click on Syllabus 2020-21 from the left panel.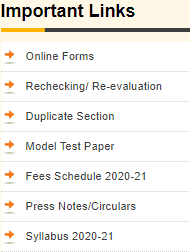 Click on 12th Class Syllabus > Structure of Studies Structure of Question Papers for Academic Year 2020-21.
Download Punjab Board Question Paper – Class 12
To download the Punjab Board Sample Question Papers, you can either visit the PSEB website or use the links to download the PDF files.
Steps to Download Punjab Board 12th class question paper from the official website:
Open the website

www.pseb.ac.in

.

Click on Model Test Paper from the left panel.

Select the Class 12th Model Papers. A dialog box will appear, so click on OK.

There will be November, August, and June Model Papers, which you can download.
How to Prepare the Complete PSEB Syllabus of 12th Class?
Studying for class 12th exams and scoring above 90% in 12th PSEB results is possible only with a clear understanding of topics and consistent practice. Here are the most useful tips that can help you score high marks.
Always focus on the PSEB syllabus books first and then only go for higher-level refreshers and other books. You can score at least 70-85% marks easily if you only study from the main coursebooks.
Do proper time management between school, tuition, self-study, rest, and other activities. During the last few months, self-study is essential. Give maximum time in self-studies. Whenever you have any doubts, ask them, and get solutions.
Solve 3-4 PSEB question papers of previous year exams and sample papers. Practice like you are giving an actual board exam. Stick to the time limit. It will help you know where you are lacking and improve writing speed, writing answers with clarity.
Keep studying all subjects regularly. Make a time table. Set your subject and topic priorities, and don't start from just anywhere.
Do only revisions in the few days before the exams. And take complete rest a day before the exam.
Career After Class 12th
As we mentioned in the beginning, Chartered Accountancy is the most recommended course for you, but now we will tell you why CA is the best course for you.
Chartered Accountants is one job role that is in-demand and will stay in-demand in the future, no matter the circumstances because every organization needs a CA for one or other purposes. The CA course will also enable you to get a high-paying job in big companies. You can even start your firm and do individual CA practice.
One thing about this course is that you can discontinue the course in between and resume anytime later. Another amazing aspect of this course is that if you have studied the PSEB Syllabus of 12th class Arts or Science or Commerce, it won't matter in your CA course registration.
You should surely know more about the CA course and explore its career options.
Frequently Asked Questions
Ques. 1 Where to download the new PSEB syllabus?
Ans. You can download the latest PSEB Syllabus of the 12th class from this article on CA Wizard or the PSEB website.
Ques 2. What are the passing marks for the class 12th Punjab Board Exams?
Ans. You need to score a minimum of 33% marks in each paper of PSEB Exams.
Ques 3. Where can I get free class 12th Punjab Board Question Papers?
Ans. You can download the Punjab Board 12th Class Question Papers from the official PSEB website or this article.