Commerce vs Science: The question of commerce or science, which stream to choose amongst them is very debating. And, a definite conclusion of which stream students must choose after completing the 10th exam is yet to decide.
Science is defined as the intellectual and practical activity encompassing the systematic study of the structure and behavior of the physical and natural world through observation and experiments. Whereas, Commerce is a study of trade and business activities such as the exchange of goods and services from the producer to the final consumer.
In the recent era, most of the students prefer to opt for commerce stream over science stream. The main factor of choosing the commerce stream is the diversity it offers. Moreover, the Commerce stream offers a wide range of career options for students. Whichever industry students choose to work in requires a basic understanding of commerce.
Therefore, Students must know why the commerce stream is more important, how it is better than the science stream, etc. This article of CA Wizard will help students to enroll in CA foundation through provisional registration. CA Wizard is a free online education portal, which helps students with all aspects to choose the best stream to build their career. For more such informative articles, students must follow CA Wizard.
Why Commerce is Important
The commerce stream after completing class 10th board exams is one of the most popular choices in India. This is because this stream offers them a large range of career options to pursue after completing the 12th board exams. However, while choosing the commerce stream, students must have a certain aptitude for commerce, so they study the subject with an interest.
Benefits of Choosing Commerce Stream
The top benefits of choosing the commerce stream after completing class 10th examination are as follows:
After 10th, the Commerce stream includes a combination of subjects that deal with the specialization.
Based on the subjects, candidates can get into various courses after completing their 12th board exams that offer great career growth. For example, if the student is very good at Mathematics and its applications, then Finance is a great choice for their career.
Moreover, the commerce stream offers management courses as well in various fields like Hotel Management, Event Management, media management, Fashion Management, Marketing Management, etc.
Also, many companies like BPOs and KPOs only hire students with commerce backgrounds.
Lastly, in the ups and downs of the economy, commerce subjects will be always in demand.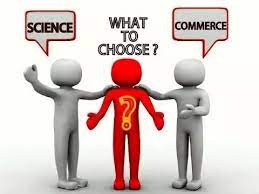 Comparison Between Commerce Vs Science
Given below is a brief comparison between Commerce vs Science:
| | | |
| --- | --- | --- |
| Criteria | Commerce | Science |
| Important Subjects | Economics, Business, Accounting, Mathematics | Physics, Chemistry, Biology & Mathematics |
| Best For | Business, Entrepreneurship, Management or Accounting-related careers | Engineering, Technology or Medicine-related careers |
| Difficulty Level | Considered easier than Science | Usually considered difficult |
| Main Focus | Theory-based and mathematical both | Scientific formulas, equations, math-oriented, experiments |
| Careers | Manager, CA, CS, Economist, Research Associate, etc | Engineer, IT Analyst, Research Scientist, Doctor, etc. |
| Courses after 12th | BCom, BCA, BMS, BBS, BBA, | BTech, MBBS, BE, BSc |
Take Away of the Blog
In conclusion, students who opt for the commerce stream must keep in mind that this subject is not an easy alternative as compared to the science stream. Both science and commerce are tough to study in their ways and cannot be compared. Hence, if a student wishes to pursue the commerce stream only because they feel that science is not a suitable stream for them, they need to rethink wisely. Thus, the commerce stream should be pursued by students who have an interest in the subject. Therefore, from this article, students can compare Commerce vs science. And can easily find out why to chose the commerce stream over science.
Frequently Asked Questions
Q1. Is commerce is an easy subject for students?
Ans: In comparison with the science stream, commerce is an easy subject. But commerce subjects like accounting, taxation, financial management, etc are a bit complex. Students need continuous practice for these subjects to clear the exams.
Q2. Is commerce good for choosing various career options after completing class 12th?
Ans: Yes, commerce offers a wide range of career options for students after completing their 12th exams. The commerce offers career options such as Bachelor of Laws (LLB), Bachelor of Commerce (B.Com), Cost and Management Accountant (CMA), Chartered Accountancy (CA), Bachelor of Business Administration (BBA), Company Secretary (CS), and many more.
Q3. What are the jobs which offer highly paid jobs with a commerce background?
Ans: The jobs such as Chartered Accountant (CA), Chief Executive Officer (CEO), Chartered Financial Analyst (CFA), Company Secretary, Research Analyst, Marketing Manager, and many more are highly paid jobs with commerce background.