ICAI gives good news for Class X students!
In the difficult times of the COVID-19 pandemic, the Institute of Chartered Accountant of India has made things easier for aspiring CA candidates. In a recent announcement on their website, ICAI has stated the amendment in 25E, 25F, and 28F in the Chartered Accountants Regulations, 1998.
As the amendment comes into practice, the class 10th pass out students is eligible for the provisional registration for CA Foundation Course. This change will enable them to become a CA 6 months earlier than the average course duration.
You can read the complete CA Foundation Registration details here. Please note that the CA Foundation fees will remain the same.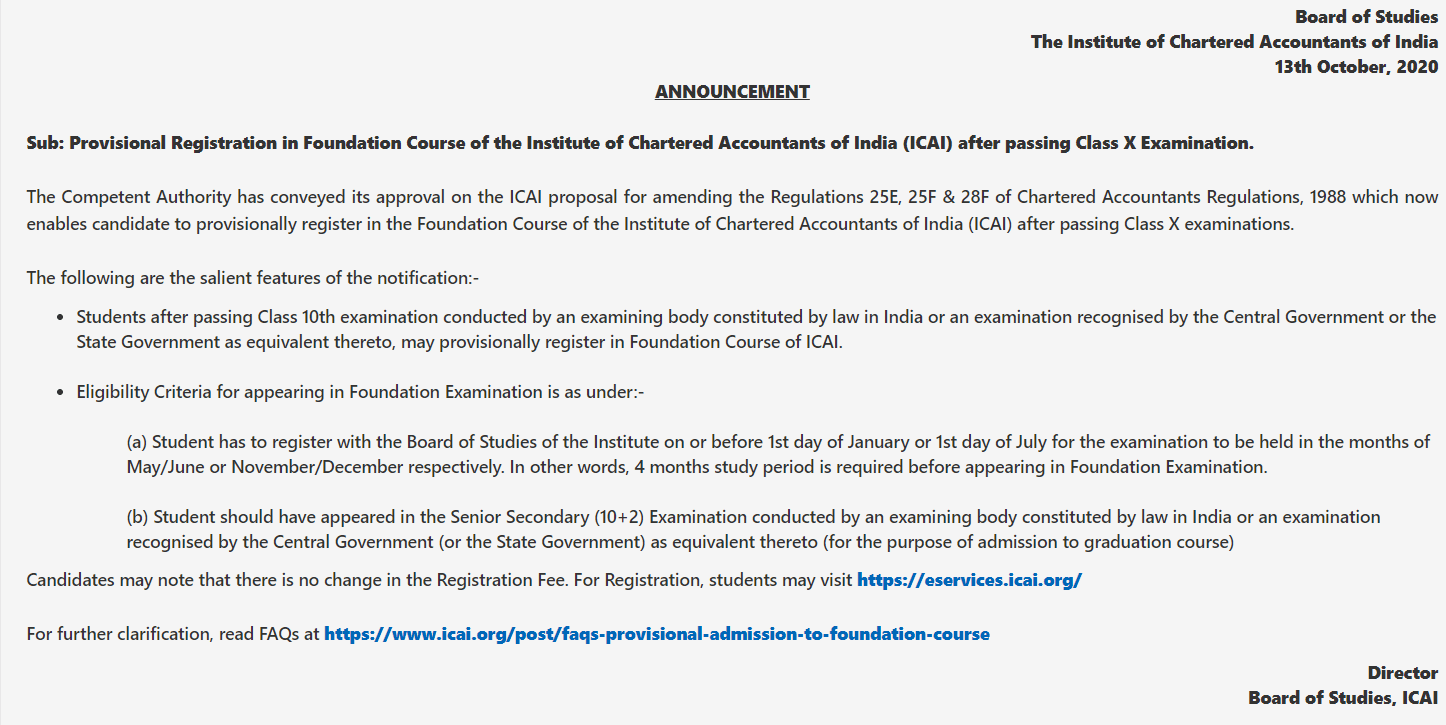 Why should you choose the Provisional Registration for CA Foundation?
CA is one of the best careers, especially for the commerce stream students. The high-paying salary for CA in India with excellent job options makes it a lucrative career. The rising need for CAs in India has increased the demand for this profession. Due to such opportunities, many students aim to become a CA.
But reaching the finishing line and becoming a CA is not easy. A student needs to put time, effort, and passion into completing all three CA course levels. Even if a student clears all the exams in the first attempt, it takes 4.5 years to complete the CA course.
But now ICAI has made things easier with this new amendment.
You should choose this provisional registration so that you can:
start your preparation earlier and save time,

get more time to study, build conceptual knowledge,

complete the CA course in advance due to early enrollment,

start your professional career journey early.
You can save six months from your CA journey and become a Chartered Accountant earlier.
How will Provisional Registration after the 10th make you a CA, 6 months earlier?
Below we have explained the amendment in detail for you to understand how you can become a CA 6 months in advance.
The CA course registration opens only twice a year, where students have to register before 1 January or before 1 July.
Earlier, the conditions for provisional registration in CA Foundation were:
Only a student who has appeared for the class 12th exams was eligible for the provisional registration.

The student could appear in the CA Foundation exam after completing a study period of 4 months after the registration.
With the above conditions, any class 12th student had to
finish their 12th exams in March-April,

register for CA Foundation in May,

and appear for the exams in November.
After this new amendment, students can complete the CA Foundation level much earlier. How? After passing from class 10th exams, students can register for the CA Foundation level. They can complete the CA Foundation 4 months study period during their 11th and 12th. In other words, you can simultaneously complete the preparation for CA Foundation exams in your 11th and 12th class.
With this amendment in the provisional registration,
You do not have to wait for completing your class 12th exams and then give another 4 months for CA Foundation studies.

You can do the CA Foundation course registration earlier.

You can appear for the 12th exams in March and the CA Foundation exams in May.
So ideally, you have moved from November exams to May exams, i.e., 6 months early.
Why take CA Coaching from the Best CA Institute in India?
If you are preparing for CA Foundation with class 11th or 12th, then you need the best CA Coaching to clear the CA Exams with a good record. The best CA institutes of India provide Face-to-face CA classes, online CA coaching, and even Pendrive classes. Whatever type of classes you choose, ensure you get the best coaching.
Studying from the best faculties and in the best environment will bring you the best results. You will get personalized support depending upon your knowledge and IQ level.
FAQs
Q1. I am class 10th, so am I eligible for CA Foundation provisional registration?
Ans. No. You will be eligible for the provisional registration in CA Foundation only after passing class 10th exams.
Q2. I am in class 11th, so can I apply for the CA Foundation registration?
Ans. Yes, under the new provisional registration scheme of ICAI, you can register for CA Foundation.
Q3. I am a class 12th student, so can I do the CA Foundation provisional registration?
Ans. Yes. You can register for CA Foundation under the provisional registration.
Q4. Can I appear for CA Foundation exams after passing class 10th?
Ans. You can only register for CA Foundation after passing the 10th class. To appear in CA Foundation, you must have passed class 12th.
Q5. Can I give CA Foundation even if I fail in class 12th exams?
Ans. No, you have to pass the class 12th exams first. After that, only you will appear in the CA Foundation exams.
Drop your comments below if you have any more questions.