MPBSE Admit Cards of Hall Tickets are essential for the students of class 12th. Every year, the Madhya Pradesh Board of Secondary Education issues individual admit cards for all the class 12th students.
This year, the MP Board Admit cards were released on 5th February 2020. The students should ensure they get the admit cards on time and all details on the admit card are accurate. They can get the admit cards from the website of MP Board. They should not forget to carry their admit cards/hall tickets for all papers. Even after your MP Board Exams are over, you should safely keep a copy of your admit card. While checking your MP Board Result 2020, you would need the details (enrollment number and others) mentioned on the admit card.
Importance of Admit Card
Not only MP Board, but all state boards and central board have made it mandatory for students to carry a photocopy of their admit cards/hall tickets. This rule has been made for various reasons.
Admit cards are important because they are the identity proof of a student. Teachers/examiners can verify the identity of a student with his photograph and other details mentioned on the admit card.
It helps them ensure no other student or person appears to write the exam paper of another student.
It is an important step to maintain fairness in the exams and give an equal chance to all the students.
Class 12th MP Board Exams 2020: Important Dates
Admit Card Release Date: 5th February 2020
MP Board Exam Dates: 2nd March to 31st Mar 2020
Rescheduled Exam Dates: Remaining exams to be held from 9th to 16th June 2020.
Result Date: Will be announced after the exams.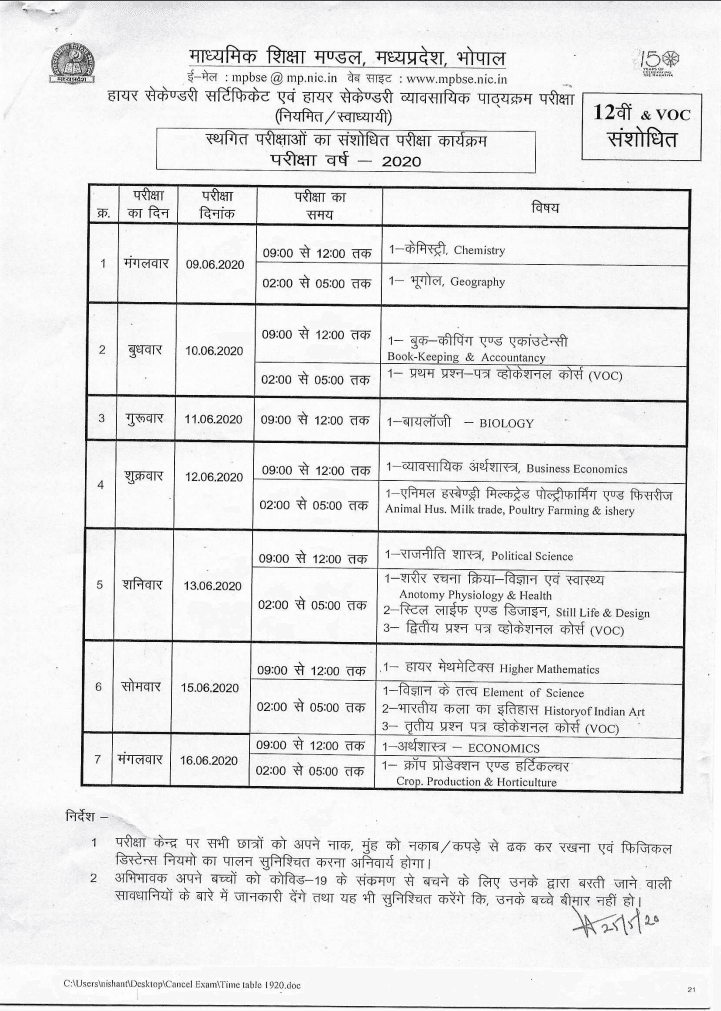 Download MPBSE Admit Card for Class 12th
Steps to Download MPBSE Admit Card 2020:
Open the MPBSE website in a web browser on your computer or mobile phone. Link: https://mpbse.mponline.gov.in/MPBSE/MPBSE
Under the 'Active Links,' you will see Examination/Enrollment Forms on the right side of the screen. Click on it.

The new page will have a link to download MP Board Admit Card. See where the arrow is pointing in the below image- 'Print Main Exam Admit Card 2019-20'.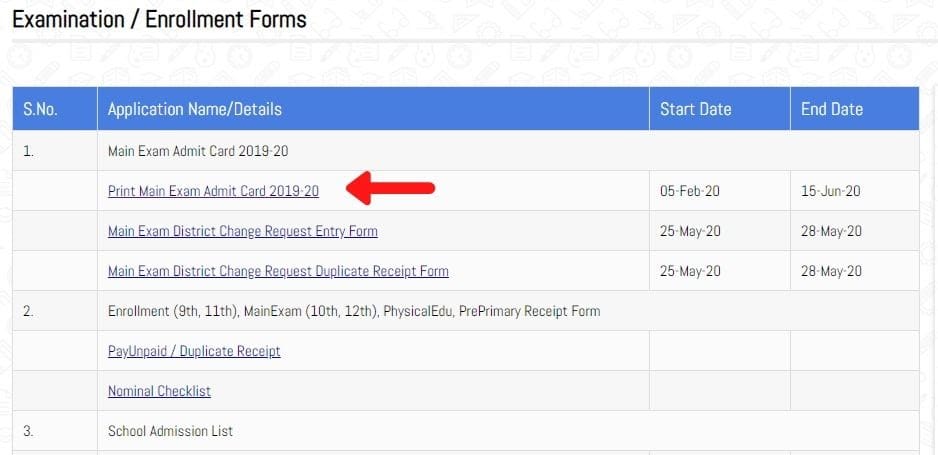 In the new login window opened, enter your details in the blank space provided and click the Submit button.
Your MP Board 12th admit card will appear on your screen. You will have the option to either take a print out or save it.
Keeping a few photocopies/print outs of the admit card is also a great idea to save yourself from the hassle of downloading it again.
After taking a printout of the admit card or downloading it, you need to make sure of certain things to avoid problems later.
Steps you should take after downloading 12th MP Board Admit Card 2020
Verify and check all the information and details mentioned on your MP Board 12th Admit Card. If there are any errors in the details, like the spelling of your name or other information, contact your school, to get it corrected.
Students should get the admit card signed and stamped by their respective school principal.
Details in MP Board Admit Card
Name of the Examination
Student Name
Parent's Name
Student Photograph
Student Signature
Date of Birth
Enrollment Number
School Number
Respective Class
Subjects selected by students
Exam timings and dates
Exam Centre Details
Important Instructions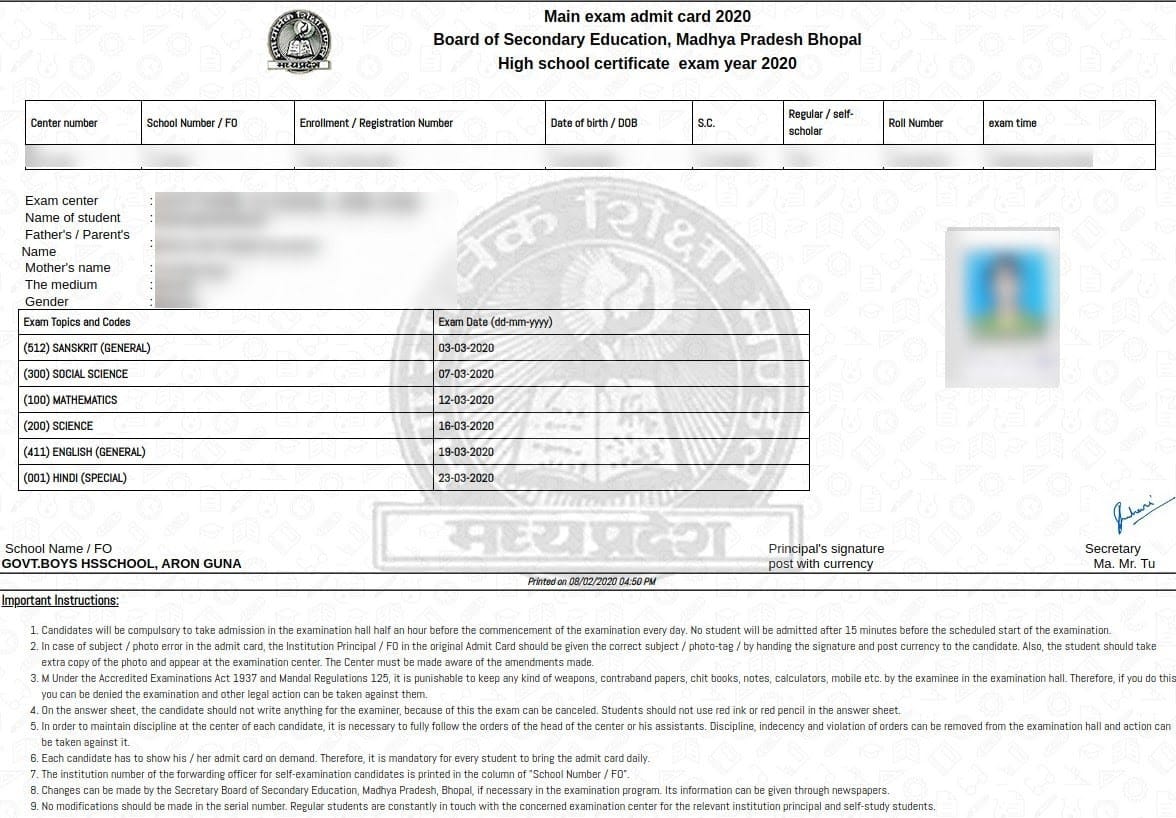 Frequently Asked Questions related to MPBSE Admit Card 2020
Q1. From where should I download the MP Board Admit Card?
As mentioned above, you should visit the MP Board Website. Link: https://mpbse.mponline.gov.in/MPBSE/MPBSE
Q2. Is it necessary to carry my admit card to every exam during the MP Board exam?
Yes. It is not only important but mandatory to take your admit card with you when you go for giving your board exams.
Q3. Can I still give my board exam in case I forget to take my Admit Card/Hall Ticket?
You won't be allowed to enter the examination and give your exam. So make sure your admit card is with you when you go to write your exam paper.
Q4. What things are allowed and prohibited inside the examination hall?
Students are permitted to take their School ID Cards, MP Board Admit Card, and writing material. Books, notebooks, any other written or printed notes, electronic devices are prohibited in the examination hall.
Q5. At what time should I reach the exam centre?
Reaching your assigned exam centre for at least half an hour before the exam starts should be your ideal practice. Before your first paper, make sure you visit the exam centre from your home at the same time you would on your exam day. It helps you get familiar with the directions, location and traffic on the route and you will be able to reach the exam centre on time.