Are you new to CA Foundation? Do you have queries about pursuing CA?
If yes, then learn how to crack CA Foundation Exam the right way with this CA Foundation Question Bank.
How will this CA Foundation Question Bank, quickly help you improve your preparation?
In this CA Foundation Question Bank, you will get complete and updated information you need before you start preparing for the next CA Foundation Exam.
This CA Foundation Question Bank has all links to revised study material and other learning resources released by ICAI (The Institute of Chartered Accountant of India) for quick access.
Everything is divided into sections and pointers for easy understanding.
Top CA Foundation Exam with this Free Question Bank and Resources
You can also Download MTPs, RTPs and Previous year's CA Foundation Question papers by clicking on the link.
---

---
What do you need to know about CA Foundation 2023?
CA Foundation is the revised name of the Common Proficiency Test (CPT).
It is an entry-level exam for students who want to become a CA in India.
ICAI, the authorized body for Chartered Accountants in India has made it compulsory for students to give the CA Foundation Exam only after studying for at least four months.
Eligibility Criteria for CA Foundation Exam 2023 Registration
For the year 2023, ICAI has announced Provisional Registration in the CA Foundation Exam. It is because most of the CBSE/ICSE/State Board 12th class exams are scheduled late.
Now, a class 12th student who has been allotted the admit card for Senior Secondary Examinations and/or given one or more exams in Feb/Mar 2022 is eligible to register for the CA Foundation Exam registration on/before 30th June 2023.
The students will have to clear their 12th Board Exams and appear in Foundation Exams in June 2023. For more queries regarding the same, see guidelines by ICAI here.
Also Read: CA Foundation Examination Form May 2023 out Now. Check Here. 
Registration Process for CA Foundation Exam 2023
Easy steps to register yourself for the Foundation Exam of CA:
1. Open the official website of ICAI in your browser.
2. Select STUDENTS – COURSE REGISTRATION FORMS from the above menu.
3. Select the application registration.

4. A new web page will open. Select the option to register.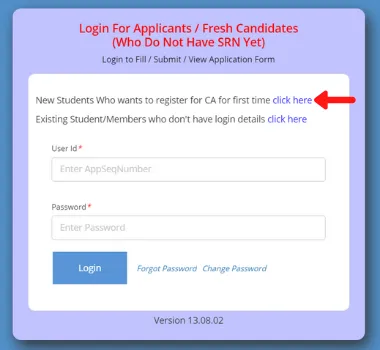 5. Fill in all the details and enter captcha on the new page.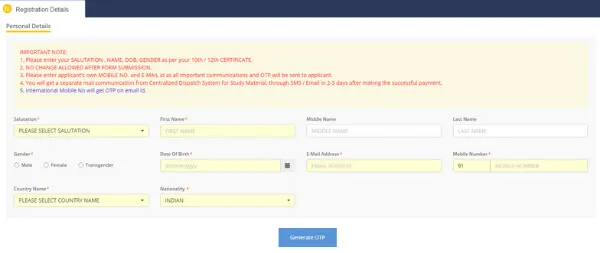 6. Generate OTP and type in once you receive it.
7. After the process is complete, you will get login credentials. You can log in through the same window in step 4. Or  click here.
8. Now you need to complete your profile and fill all the details.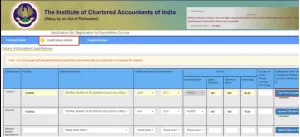 9. Upload your online photograph and scanned signature.
10. The last step to complete the registration is fee payment. You will receive a transaction receipt and the computer-generated form with all details.
Fee details of CA Foundation 2023

Revised CA Foundation Papers and Syllabus (2023)
The CA Foundation Paper has four subjects in total.
ICAI Syllabus for all four CA Foundation Papers is available in this CA Foundation Question Bank.
Download Subjects in CA Foundation from Here.
Below table has links to CA Foundation study material 2023, mock test papers and practises questions provided by ICAI for all subjects.
PAPERS
LINKS
Principles and Practice of Accounting
View Here

Business Laws and Business Correspondence and Reporting

Section A: Business Laws Section

B: Business Correspondence and Reporting

View Here

Business Mathematics and Logical Reasoning & Statistics

Part A: Business Mathematics

Part B: Logical Reasoning Part C: Statistics

View Here

Business Economics and Business and Commercial Knowledge

Part I: Business Mathematics

Part II: Business and Commercial Knowledge

View Here
Topics of CA course are divided based on skills and sections. Below are the links for the revised schemes that are applicable from May 200. This division helps in better preparation for exams.
Skill-wise Weightage
The skills assessment is based on three skills:
Comprehension and Knowledge
Analysis and Application
Evaluation and Synthesis
However, only the first two are included in the CA Foundation Course.
Download the Skill Assessment Specification for CA Foundation subjects under the revised scheme of Education and Training.
Section-wise Weightage
Download the Section-wise Weightage for all CA Foundation subjects under the revised scheme of Education and Training.
You can prepare for the next CA Foundation Exam in very less time and easily crack the CA Foundation Exam 2023 with complete information in this CA Foundation Question Bank. 
Here are all things you must know to crack CA Foundation Exam.
Mock Test Papers and Schedule by ICAI- CA Foundation
Download the Schedule for CA Foundation Mock Test Papers. In this CA Foundation Question Bank, we have direct links to questions and answers of latest mock test papers by ICAI. Download them, solve the papers in a given time frame and check your answers with the answer key.
You can also access more mock test papers and previous year Q/A here.
4 Tips that will make you Excel in CA Foundation Exam 2023
These tips are also the traits of CA Toppers that separates them from the rest.
Coordinate your efforts with a schedule: Students who divide their syllabus in schedules are more likely to complete their syllabus on-time with extra time in-hand available for multiple revisions.
Calculator shortcuts are the key to save time: Command over the use of calculator's keys and speed saves valuable time in exams.
Avoid Stress: Healthy eating habits and adding mini-breaks in the study plan helps relax the mind. It makes you stress-free, and you can improve concentration.
Give attention to every subject: All papers focus on different skills and patterns, therefore, make a subject-wise plan and strategy for all subjects in CA Foundation.
Reference Books 
The ICAI provides study material at the time of registration. Students can also buy reference books from the online portal of ICAI. Some of the most widely used books are:
Grewal's Accountancy by M.P. Gupta & B.M. Aggarwal.
Fundamentals of Accountancy by P.C. Tulsian and Bharat Tulsian
Fundamentals of Accounting by D.G. Sharma
Mercantile Law by M.C. Kucchal and Vivek Kucchal
General Economics (PM Salwan & Parnjali B Deshpande)
Quantitative Aptitude by Dr T. Padma and K.C.O Rao
CA Foundation Exam Dates 2023
The ICAI conducts the entrance level CA Foundation Exam twice a year in the May and November.
ICAI has already announced the CA Foundation Exam Dates for June 2023 Examination. You can check here.
ICAI has recently made an announcement on their official website for the new dates for CA Foundation Exam (under the new scheme).
New CA Foundation Dates 24th, 26th, 28th and 30th June.
Students should cross-check the details of their CA Foundation Admit Card.
Last Year Pass Percentage Data and Analysis 
See the result comparison of the last three CA Foundation Papers held in Nov 2018, May 2019, and Nov 2019 in this CA Foundation Question Bank.

Also Check: CA New Scheme
FAQ
Q1. Can I apply for the upcoming June 2023 CA Foundation Exam?
Ans: No. ICAI is not taking any more entries for CA Foundation June 2023 Exam. Students can now register for June 2023 Exams till 3 Feb 2023.
Q2. What is the revised exam pattern for CA Foundation Exam 2023?
Ans: There are total of four papers.
| | | |
| --- | --- | --- |
| Subjective type | Paper 1 & 2 | No Negative Marking |
| Objective type | Paper 3 and 4 | Negative Marking |
Q3. Can I easily pass in the CA Foundation Exam?
Ans: Students have a high chance of clearing all the four papers of CA Foundation in a single attempt. Since the students from commerce background already know about the concepts of all subjects.
Q4. What is the passing criteria for CA Foundation Exam?
Ans: The passing criteria have two conditions:
Minimum 40% marks in every subject
50% or above aggregate marks
Q5. How many times can I give the CA Foundation Exam?
Ans: Your registration is valid for three years so you can give the CA Foundation Exam six times. After that, you will have to renew your registration which will be valid for three years again.
Q6. I am a Science/Arts stream 12th student. can I register for CA Foundation Exam?
Ans: Yes, students from all streams can register for CA Foundation Exam in June 2023.