Chartered Accountant is one of the most popular profession in India and is followed by many commerce students. Although they do not stop here and move on to build an exceptional career with additional courses. CA wizard provides you with the list of courses after CA for high salary and better resume.
There was a time when CA was in itself a prestigious profession but the amount of competition and increasing numbers of CAs have reduced it. As the future of finance and accounting has diversified, it is advisable for each and everyone to do courses after CA for a high salary.
What after CA? Do you also have a similar question once done with CA? Here's the solution to your query.
A chartered accountant is a profession from the commerce field and hence gives expertise in the financial sphere. Students who are looking forward to extending their skill set can do value additional courses as well as short-time financial courses. Consequently, there are multiple websites providing online certification courses for CA students as well. One can find all these courses listed as well as Career options available after CA , below in the article.
CA wizard is an online open library available for all students providing useful information and study material resources. Furthermore, you can find everything from class 11 syllabus to the list of multiple career options in commerce after CA. It is your go-to guide to building a career in the commerce field. Moreover, the information provided here is extracted from the official website and is absolutely trustable. Refer to the website to find answers to all your commerce-related queries.
Also, Check the Complete CA Course Guide
Also, Read – How to Become CA
Value-Addition Courses for CA
The culture of working for MNCs is growing rapidly due to salary increments and perks. There are few value addition courses that could help you get a CA job out of India easily. The Value addition courses entitled below are of short duration and can be done in part-time with ongoing jobs as well. Furthermore, these short-time value addition courses build skills set and do not require any multiple hours of studying. These value addition courses will help you get a safe and secured job abroad.
CPA US (Certified Public Accountant) – Most of us dream to move out to different countries for better opportunities. CPA is an accredited degree for the CAs allowing them to work in the United States and can easily fulfill their dream to work abroad. American Institute of Certified Public Accountants provides a CPA degree. The average salary of CPA is between 6 to 7 Lakh in India, while it differs in other countries.
CIMA (Chartered Institute of Management Accountants)- CIMA or Chartered Institute of Management accounting teaches knowledge about strategic management. It is globally accepted in other countries like the US and Australia as well. An average CIMA earns Rs. 10.9 lakhs per year while Some CIMA members are able to earn over Rs. 30 lakhs per annum.
ACCA (Association of Chartered Certified Accountants)- To move out and work for Multinational Companies in other countries is a great career opportunity and can be easily fulfilled by the ACCA course. which is renowned globally and can provide job security abroad as well. The average pay scale of ACCA is always between 4 to 15 lakh per annum.
Also check: Best ACCA Institute in India
Online Certification Courses after CA
ICAI or the Institute of Chartered Accounts of India provides various online certification courses for the CAs who are also members of the organization. Although, the main motive behind providing these online certification courses is to building skill and find their respective niche in the world of accounting. Moreover, Finance modelling, business analytics as well as strategic planning etc. are some of the additional courses available.
There are even more diverse certification on money laundering, foreign exchange, public finance. ICAI proves the theory that CA might not be your final qualification and one has to grow continuously in the field to be renowned and honored. Furthermore, the eligibility criteria are just to be the member of the organization.
Below is the list of all the certification courses available. The fees differ from course to course, although none of the course is extremely expensive and lies between 8K-10K.
Certificate Courses for Members Of ICAI
ADR (Arbitration, Mediation & Conciliation)
Anti Money laundering Laws (Anti- Money Laundering Specialist)
Business Responsibility and Sustainability Reporting (BRSR)
Concurrent Audit of Banks
Cooperatives / NPOCertificate Course on Derivatives
Enterprise Risk Management
Forensic Accounting and Fraud Detection
Forex and Treasury Management
GST
Indian Accounting Standards (Ind AS)
Internal Audit
Public Finance & Government Accounting
Wealth Management and Financial Planning
Post Qualification Courses –
Post Qualification Diploma in International Taxation
Diploma in Insurance and Risk Management (DIRM)
Diploma in Management and Business Finance (DMBF)
Information Systems Audit (ISA)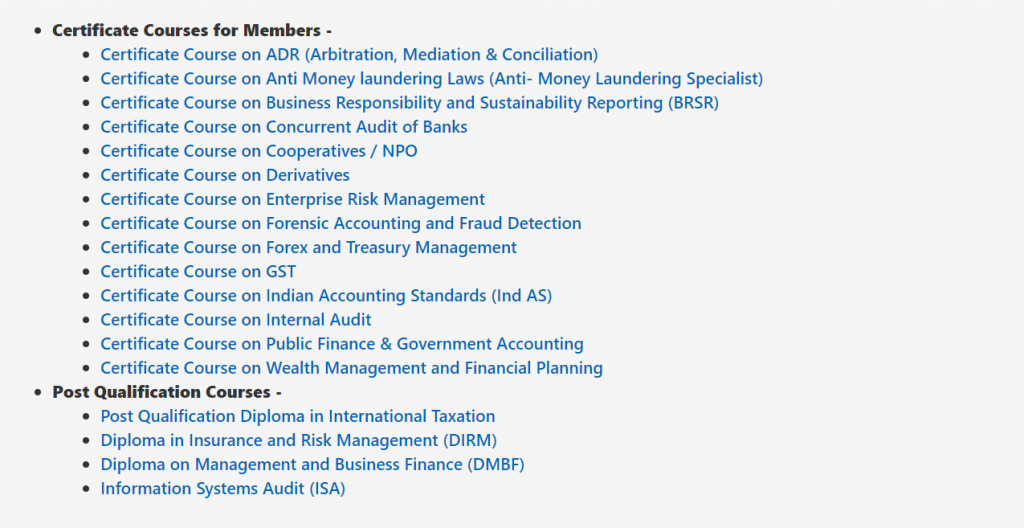 Post Qualification Courses After CA For High Salary.
Below are some of the courses which are easily doable after CA for a high salary. All these carrier options after CA can be easily followed by giving exams for each profession.
INVESTMENT Management –
Are you fascinated by the cushy lifestyle of bankers earning lots of money and living lavishing life? Then, this profession is suitable for you. To become an investment banker, there are many professional courses by the world's best universities. The course done to become an investment banker is investment management by universities like the University of Geneva, or Yale University. Furthermore, courses on Financial Markets as well as Advanced Valuation and Strategy are also valuable.
Huge financial institutions appoint them and have impressive salaries with lots of perks. There are also alternate banking options in India after CA.
Financial modeling and valuation are two skills that a CA needs to know to move its career path towards an investment banker. The investment manager has a starting salary of 9-10 Lakh Per annum.
CFA (CHARTERED FINANCIAL ANALYST) –
Chartered Financial analyst or CFA has a major portfolio in Investment management and asset management. It could be a perfect gem to your Crown of financial career. With CFA, the chartered accountant gets specialization in the financial field. CFA is a long-term course involving three-part exams and needs work experience of at least two years. The course overall takes four years to complete and furthermore, can be done after graduation only. The major portfolios of CFA are Portfolio Management, Valuations, Portfolio management, stock trading, etc. The pass percentage of CFA is higher than CA. The average salary of CFA is somewhere around 9 lakhs to 12 lakh per annum.
LLB (BACHELORS OF LAW) –
These days the craze of LLB is growing among the youth, LLB after CA brings diversity in the career and opens new avenues to prosper. According to Clause (7) of Part I of the First Schedule, a CA can do LLB and become a lawyer. There are students who wish to from diversely and like to build multiple skill sets. Through LLB, many government job options are also available to the students. One can take up cases on Civil Law, Corporate Law, Labour Law, International Law, Family Law, Constitutional Law, Patent Law, etc. The minimum salary in corporate law is approximately 8 to 10 lakh per annum.
FRM (FINANCIAL RISK MANAGER) –
Just like investment bankers and financial analysts, the financial risk managers are work in financial institutions or MNCs. One can complete the FRM course after going through the 2 exams in a minimum of one year. The course can teach necessary research and analytics tools. While the course is shorter in duration, but could be difficult for those who lack mathematical skills. Furthermore, the major job portfolios are Risk Manager or Credit Manager in the Banking sector, insurance sector, or consulting firms. Being another high in-demand professional, the starting salary is from 8 lakh INR.
CS (COMPANY SECRETARY) –
Many Chartered Accountants consequently pursue CS with their CA degree. As, the course and examination pattern are extremely similar. But due to this there are already a lot of CS and have good competition in the market. The initial salary of a CA with CS is approximately 7-8 lakh INR.
Through CS, CAs can have a stronghold in corporate law and at the same time specialization in audit and taxation.
Conclusion
CA which earlier was a big name in itself now can be found anywhere and everywhere. Hence, to extend your professional career, one should keep up-to-date with current trends. After CA, there are numerous courses that a person can do to get better results. Although, one should not blindly hop on any course available and first do the required research. Above you can find in-depth research about each course After CA for High Salary.
Frequently Asked Questions
Q1- Which course is best after CA?
Ans- There are multiple avenues with commerce like investment banking, LLB, etc. definitely, a Chartered Accountant can easily make their career more valuable through the courses pin down above.
Q2- What is the maximum salary of CA?
The average salary of a Chartered Accountant is around Rs 7.36 lakh a year. While the highest salary is Rs 24.64 lakh.
Q3 What is the career after CA?
Ans- Indeed, many career options are pin down above for you to choose, while one can easily build a career in banking and finance sector.