In order to help the students score more than 90% marks in class and complete the 12th syllabus in 1 month, we are providing guidelines on CBSE class 12th Mathematics subjects. The guidelines include the latest 2021 CBSE Class 12 Maths, Syllabus, Sample Paper 2020 with other question papers, NCERT solutions, NCERT Books, projects and case studies, practice manuals, NCERT exemplar Important questions for you.
The guide for class 12th is a compiler of all the updated and required study material, streamlining your study time and getting the best result.
This blog will let you know about the complete chapter wise syllabus of
Mathematics Part-I and Mathematics Part-II. We have also shared the pdf files of book 1 and book 2. You can also get the notes, sample papers, and previous year question papers with solutions to practice the right way of answering the questions.CBSE Exemplar is a copybook that will help you to know the updated question paper design of Maths subject.
All the Best for your exams!
1.Mathematics
Subject Code No 041)
CBSE (Central Board of Secondary Education) is the government-organized body that takes care of senior secondary education in India. Students after 10th choose subjects from arts, commerce, and science streams which is the building foundation of their professional courses. To manage the crisis due to covid19, CBSE has reduced the 12th commerce subjects syllabus by 30% and scheduled the exam in May 2021 instead of February or March. The new exam date sheet has been released and can be viewed from here.
Mathematics is an important subject for class 12 students. Even though it is an optional subject, those who have selected it should give extra time to it. The CBSE Class 12 Maths Syllabus is very vast and covers topics in detail. It also helps in further studies of professional courses such as Chartered Accountancy and others. If you score more than 90% marks in this subject, you have the opportunity to join further professional courses like Btech, MBA, CA, BCA, BBA, Entrepreneurship, and many more. Students with good knowledge about business and commerce prefer to prepare for professional courses like CAT.
CA Wizard is an online education library for students in class 11th,12th, CA foundation, CA intermediate, CA final, CIS, CAM, and more. We have all the necessary resources for Commerce Stream students. Visit our website if you want the latest syllabus of commerce subjects, ebooks, and papers for all the main commerce subjects (Accountancy, business studies, Economics), English and Hindi syllabus, and more. CA Wizard also provides you with all the latest information on the CA course- the best career option after class 12.
1.1 Objective of the Subject
Mathematics subjects in the senior secondary will help students to develop an understanding of the basic tools that will solve the problems related to day-to-day life. It also helps students to know the proper way of solving complex problems with methods and techniques. CBSE maths syllabus and CA foundation maths syllabus have the same curriculum. Students who can score good marks in CBSE maths paper will easily clear CA foundation maths paper,
2.CBSE Class 12 Mathematics Syllabus 2021
Maths is a practical subject that requires the calculation and application of methods and formulas to get the answers in a point-to-point manner. No extra philosophy will be taken into consideration while writing in the answer sheet. The CBSE Syllabus for Class 12th Mathematics is divided into 2 parts.
2.1 Part A: Syllabus of Written test
It will include all the necessary chapters that need to be covered for giving the writing exams. This part of the syllabus has 6 units covered in all the chapters of the NCERT published mathematics book.
| | | |
| --- | --- | --- |
| Title | Marks | |
| I | Relations and Functions | 8 |
| II | Algebra | 10 |
| III | Calculus | 35 |
| IV | Vectors and Three- Dimensional Geometry | 14 |
| V | Linear Programming | 5 |
| VI | Probability | 8 |
| | Internal Assessment | 20 |
| | TOTAL MARKS | 100 |
2.1.1 Deleted Topics
Students using old books or not updated with the new 30% reduced syllabus should avoid reading the following topics for the 2021 syllabus.
composite functions, the inverse of a function.

Graphs of inverse trigonometric functions, Elementary properties of inverse trigonometric functions

existence of non-zero matrices whose product is the zero matrices. Concept of elementary row and column operations. Proof of the uniqueness of inverse, if it exists.

Properties of determinants. Consistency, inconsistency, and number of solutions of a system of linear equations by examples

Rolle's and Lagrange's Mean Value Theorems (without proof) and their geometric interpretation

rate of change of bodies, use of derivatives in approximation

Definite integrals as a limit of a sum

The area between any of the two above-said curves

formation of differential equations whose general solution is given. Solutions of the linear differential equation of the type:

scalar triple product of vectors.

The angle between (i) two lines, (ii) two planes, (iii) a line, and a plane

mathematical formulation of L.P. problems (unbounded)

mean and variance of a random variable. Binomial probability distribution.
2.2 Part B: Internal Assessment
Every year the CBSE practical exams for class 12 are held in February, before the theory papers. The date sheet for class 12 CBSE practical exams for 2020-21 is now available on the school website. The practical exams for 2020-21 may be held in February or March 2021.
Internal assessment will be evaluated on the basis of Periodic test and Assessment of Activity Work to score 20 marks.
Every school conducts 3 periodic tests in the month of July-August, November, and December-January. The Top 2 test marks are summed up to make an average and score for 10 marks. While the other 10 marks are scored from activities.
The students need to do 10 activities according to the exemplar and Laboratory Manual for class XII. All the recordings should be neatly presented to the school teacher for internal assessments. Students can score 5 marks through this activity and its record.
Students then have to appear for a written test on the activities performed to score for 3 marks
Students also need to prepare for an oral test or VIVA to score 2 marks.
2.2.1 Mathematics Lab Manual class XII,2021
The Laboratory manuals have a list of 27 activities along with the procedure of doing it. Students are assigned any 10 activities to be done in a group. Students can download the laboratory manual list PDF from here.
Mathematics Lab Manual class XII, published by NCERT- free download
2.2.1.(a) Activities(1 – 10)
2.2.1.(b)Activities(11 – 20)
2.2.1.(c) Activities(21 – 27)
2.2.1.(d) Projects
3. CBSE class 12th Mathematics Exemplar Problem for 2021
Mathematics Exemplar Problems are notes for chapters or copybooks of the main NCERT book for Class XII,2021. Students can download the PDF of exemplars to have handy notes for each chapter.
4.Download CBSE Class 12th Maths Question Paper Blueprint
CBSE issues the new design of the question paper for 2021. We help students know the marking scheme of all the subjects of class 12th. This helps the students to go through it to know the design of the Maths question paper. This will help students to know the marking scheme, weightage given to each chapter, and pattern of Questions asked.
According to the blueprint
There will be 10 MCQ questions objective types questions or VSA very short answer types will be asked for 10 marks

There will be 12 short answers questions each for 4 marks asked for 48 marks.

There will be seven long answers questions that need to appear for 42 marks.
If students want, they can download the Question paper designs for class 12th mathematics paper.
5. Class 12th 2020-21 Maths Prescribe Books
Students can now download the CBSE Class 12 Mathematics Book and answers from the below table and can study the whole course in a pdf format also. CBSE class 12 commerce books are available in pdf format to allow students to study in both offline and online mode.The books are available in 3 different languages Hindi, English, and Urdu.
Students can download the book chapter-wise and can also download the full book with that for the practical subjects in the course.
Free PDF Download CBSE class 12 Mathematics Book I
Free PDF Download CBSE class 12 Mathematics Book II
Free PDF Download CBSE class 12 Mathematics Book I(Hindi)
Free PDF Download CBSE class 12 Mathematics Book II(Hindi)
5.1 NCERT Class 12 Mathematics Book Chapterwise PDF
5.1.1 Mathematics BOOK 1
5.1.a NCERT solution for Maths 2021 Chapter Wise
Students can download the pdf of answers to all the exercises available in the book. Students can do a self-test of the exercises in the book and then can check the answer with the pdf file available here.
Answers for Mathematics book 1
5.1.2 Mathematics BOOK 2
Chapter 7 PDF download Integrals
Chapter 8 PDF download Applications of the Integrals
Chapter 9 PDF download Differential Equations
Chapter 10 PDF download Vectors Algebra
Chapter 11 PDF download Three – dimensional Geometry
Chapter 12 PDF download Linear Programming
Chapter 13 PDF download Probability
5.2.a NCERT solution for Maths 2021 Chapter Wise
Students can download the pdf of answers of all the exercises available in book 2. Students can do a self-test of the exercises in the book and then can check the answer with the pdf file available here.
Answers for Mathematics book 2
5.3 Other Prescribed Supplementary Materials issued By NCERT
Mathematics Exemplar Problem for Class XII, Published by NCERT (Students can get it from above)
Mathematics Lab Manual class XII, published by NCERT(Students can get it from above)
Supplementary material for mathematics Class XII (download the PDF file from here)
Mathematics proofs for reference (download the PDF file from here)
Understand what is mathematics modeling? (download the PDF file from here)
6. Download Solved CBSE Class 12 Maths Sample Papers & Previous Year Question Papers
CA Wizard brings to you the latest CBSE Class 12 Maths Sample Papers. Download the sample paper PDFs and their solutions.CBSE has slightly changed the pattern for the class 12th papers. More MCQ-type questions are covered in the new sample papers for12th the commerce stream. You can see the new pattern in the latest sample paper PDF file of Business Studies given below.
6.1 Sample Papers for Maths Exams 2021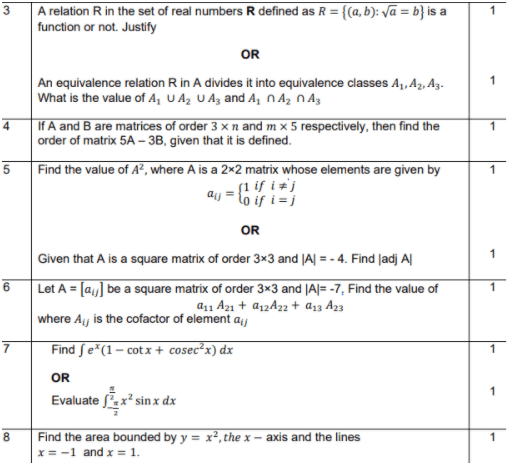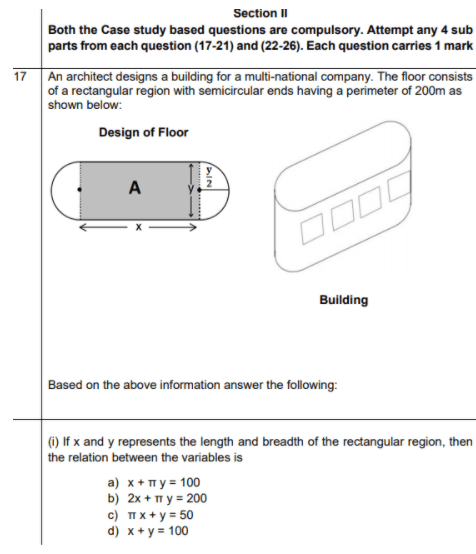 Solve the latest CBSE Class 12 Maths Sample Paper and previous year question papers. After you solve them, check your answers using the answer keys. We have given the solutions with all the sample paper question papers here.
6.2 CBSE Maths Question Paper for Class 12 (with Solutions)
Use the links provided below to download PDFs of the previous year's Maths question papers of CBSE class 12. All the sets of question papers for the 2021 Maths exams are given here with their answer keys.
6.3 Download CBSE Class 12 Model Test Paper of Mathematics
Model test paper is issued by NCERT and can help students to understand the basic structure of the upcoming paper in 2021. Students should not consider the questions asked in a model test paper as important questions.
Download the PDF of the CBSE Class 12 Model Test Paper of Maths.
6.4 CBSE Class 12 Mathematics Question Paper 2020 General Instructions:
As per the CBSE Class 12 Maths New Pattern Sample Paper, the general guidelines for exams will be:

The question paper contains two parts A and B. Each part is compulsory. Part A carries 24 marks and Part B carries 56 marks

Part-A has Objective Type Questions and Part -B has Descriptive Type Questions

Both Part A and Part B have choices.
Part – A:
It consists of two sections- I and II.
Section I comprises 16 very short answer-type questions.

Section II contains 2 case studies. Each case study comprises 5 case-based MCQs. An examinee is to attempt any 4 out of 5 MCQs.
Part – B:
It consists of three sections- III, IV, and V.
Section III comprises 10 questions of 2 marks each.

Section IV comprises 7 questions of 3 marks each.

Section V comprises 3 questions of 5 marks each.

Internal choice is provided in 3 questions of Section –III, 2 questions of SectionIV, and 3 questions of Section-V. You have to attempt only one of the alternatives in all such questions.
7. Maths Preparation Tips for 2021
Math is a difficult and even complicated subject for most of the students. You can make it simple with the help of the right teachers. But the exam preparation can only be done through self-study and practice. Follow our preparation tips if you are worried about 'how will I pass the CBSE 12th Maths Exam?' or 'how can I get good marks in the CBSE Maths paper?'
Your first step should be—collecting the necessary study material and resources like Syllabus, Sample Papers, and Books.

Then make a timetable for your studies and stick to it. Don't forget to keep enough time for regular revisions.

Get your doubts cleared from teachers or friends.

Practice the NCERT book questions and examples, solve sample papers and previous year question papers. Cross-check your answers with the solutions and score your answers according to the marking scheme. To be more fair and transparent, ask someone else to check your answers.

Improve your concentration, so you don't waste time during exams.
8. How to Use CA Wizard Subject Guides?
The guides or the compilers are an easy and handy help of assembling all the necessary documents required to prepare for the exams. The CA wizard guide for maths paper will be effective for the students if they wisely follow the pattern of using it.
First Divide your CBSE Class 12 Maths Syllabus into small sections and then download the syllabus for each section.

Refer to the marking scheme given above to know which topics are more important.

Create a register or file for each chapter and mark them important, very important, not important, and also mark the deleted topics of particular chapters.

Take a print out or download the pdf for each chapter's notes, syllabus, exemplars

Set the chapters and a timeline and then start preparing.

After completing the syllabus, download or take the printout of the sample papers, the question appears, and model test papers and practice them with the solution and answer keys.

Simultaneously continue your revisions.
9. Takeaway of the Blog
Now, at this time, students should not leave any stone unturned in their preparation. They should burn the midnight oil to score good marks in the 2021 CBSE Mathematics Exams. Students who fail to obtain the passing marks in 2021 will get another opportunity by appearing for the compartmental exams.
The easiest way to clear the compartment exam is by solving the previous year's compartment exam papers. Doing so will give the student an idea of important topics and the paper's difficulty level.
To help them prepare well, we also provided the CBSE compartment exam question papers with the marking scheme for classes 10 and 12. The marking scheme contains the answers to the compartment papers
10. Students Also Asked
10.1 FAQs- CBSE Class 12 Maths Syllabus
1. What is the CBSE Class 12 Syllabus of Mathematics subject for 2020-21 exams?
Ans:- The complete CBSE Class 12th Maths Syllabus is given above.
2.How much syllabus is reduced from the Maths syllabus of class 12 CBSE for the 2020-21 session?
Ans:- 30% of the topics are removed from the CBSE class 12 Maths syllabus.
3. What topics are removed from the class 12 Maths syllabus of CBSE?
Ans:- CBSE has removed some topics from all the chapters and units. You can see and download the complete list of deleted topics of the CBSE Class 12th Maths Syllabus from above.
4. Is the CBSE class 12 maths syllabus tough?
Ans:- The class 12 maths syllabus of CBSE is difficult so that students who want to pursue Maths in higher studies can be better prepared with the 12th syllabus. But the exam papers are designed at a moderate difficulty level for the average students.
5. Are NCERT books and CBSE sample papers enough for class 12 maths board exam preparation?
Ans:- Yes. The NCERT books and CBSE sample papers are enough for average students, and completing them should be the priority for all students. Those who want to score high marks can use other reference books as well.
6. Is the class 12th Mathematics syllabus useful in higher studies?
Ans:- Yes. Maths is a part of many competitive exams and streams like Chartered Accountancy, Company Secretary, etc. The 12th syllabus will help you in the entrance exams as you will already have a basic knowledge of the topics.
10.2 CBSE Class 12 Maths Sample Paper FAQs
Q1. How was the CBSE Class XII Maths Paper 2020?
Ans. The paper was of moderate difficulty level. However, one mark questions were time-consuming.
Q2. Which sample papers should I practice for Maths CBSE class 12 exams?
Ans. Solve CBSE Sample Papers of Maths for Class 12 exams.
Q3. Is the NCERT book enough for Maths? Which are the best books to study for the CBSE 12th exam?
Ans. Yes, CBSE books are enough for preparation. But if you want to practice more and score 90+ marks in Maths, you can practice from books like R.D. Sharma, R.S. Aggarwal.
Q4. Where can I get answer keys for the CBSE Class 12 Maths 2020 paper?
Ans. The solved CBSE class 12 Maths papers are available above on CA Wizard.
Q5. What is the latest marking weightage for CBSE Class 12 Maths Paper?
Ans. Refer to the new weightage on the revised Maths syllabus, which is given on CA Wizard.
Q6. What is the change in the CBSE Class 12th Maths Question Paper Pattern?
Ans. CBSE has slightly changed the question paper pattern by increasing the one mark questions. You should refer to the CBSE Class 12 Maths New Pattern Sample Paper. Download the file from above.